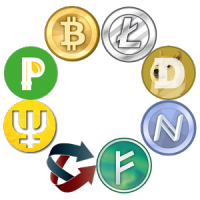 Total Market Cap of Digital Currencies nears $30 Billion
Digital currencies reached a new high today, surpassing $28 billion, a more than doubling from their previous all-time high of around $12 billion back in 2013. Indicating an increasing interest in digital currencies and the wider blockchain space.

The main driver is, of course, bitcoin, which is nearing $20 billion once more after rising for much of the week from around $1,000 to approximately $1,200. The currency, however, has lost market share, falling below 70%, as other coins gain attention.

At first it was monero after being added to some drug markets, then dash suddenly and puzzlingly incredibly shoot up above $100, but now has nearly halved, standing around $60 while slightly falling today.

Ethereum then had a bull run too, going up and up to just under $60, stabilizing at around $43. The Ethereum Alliance, a consortium of many household names, was the catalyst, as well as the announcement of some businesses that they were leaving bitcoin for eth due to bitcoin's congested network.

Litecoin felt a bit left out, so they decided to come play, tripling from around $4 to $12 on the back of much hype regarding segwit activation. That, then, got a bit confusing and messy, so they are sort of hanging around $10 for now, probably thinking of what to do next.

There's a new kid for today which had its market cap rise slightly above one billion dollars – Ripple. Yes, it's still around and despite all these years still no one really understands just what it is, but they claim to have a new friend – a Japanese bank – and are bragging about it.

They say that unlike all of us, they aim to just provide infrastructure for banks, listing many of them as being partners. They don't seem to really like blockchains. When launched, they just gave themselves billions of Ripples, with Ripple Labs still holding some 63% of all Ripples.

To show they a bit centralized, FinCEN decided to fine Ripple Labs almost a million dollars for not registering with them as money transmitters. The lab is now all serious about AML and KYC, doing trackings and all sorts of things.

So, they don't have miners, they don't have a blockchain, the currency was just issued to themselves by Ripple Labs with some distributed as they please while retaining the right to issue more if they please according to their website.
To read more, please click on the link below…
Source: Total Market Cap of Digital Currencies Nears $30 Billion – CryptoCoinsNews