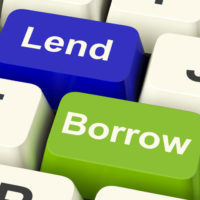 The growing popularity of peer-to-peer lending
Years ago, the financial services offered to people who wanted to profit from their savings was very cut and dry. You would either invest your money in the stock exchange, property, or in a term deposit account, to gain interest on your principal investment. Now, investors have the opportunity to expand their portfolio and commit their funds to newer, and arguably more exciting, investment options.

Peer-to-peer lending (P2P)

This disruption to traditional financial services is due to the growing popularity of peer-to-peer lending (P2P) in the market. This lending process is a method of debt financing that allows individuals to borrow and lend money without the use of an official financial institution as an intermediary. It's lending made simple, without the mountains of paperwork and hoops to jump through.

Now, the banking community is taking notice of these emerging competitors in the lending sphere. As P2P lending moves towards bigger loan offerings, rather than offering small-dollar-amount personal loans, customer bases appear to be decreasing in the big banks. As more borrowers start to outsource their loan options from the big banks, the user-friendly and efficient lending and investing experience of P2P lending could emerge as the preferred option.

But, the lending options coming out of the woodwork are not just limited to P2P lenders. In fact, the new breed of alternative investments known as financial technology, or fintech start-ups, have easy and ready to use options for investors looking for better returns.

Never in a million years would you think that Woolworths would give the banks a run for their money, but the loans sphere has succumbed to evolution, and your grocer is now offering credit cards, personal loans, and insurance options.

According to the Australian Prudential Regulation Authority (APRA), "many fintech developments will not fall directly within APRA's regulatory perimeter, and hence, will not need approvals or oversight from APRA." This creates a new market for companies looking for start-up funds without the same regulations as the banks.

The flipside

Banks and the stock market are, however, not entirely redundant. With the interest rate for a one-year term deposit sitting at 3.00% p.a. with Commonwealth and Westpac, the stability of these institutions seems to be reliable for investors.

According to Canstar, the banks are protecting their margins on their existing loans and utilising some of the retained margin to offer a more attractive term deposit rate – hence attracting new business.

But, will the banks be able to keep a strong hold on business when P2P lenders like Investors Central can offer a return of 9% p.a. to 16% p.a. on your investment?

These innovations in financial services have, however, caught the attention of the Federal Government, with Malcolm Turnbull launching the On Market Bookbuilds' website and app last year. It aims to provide better access to initial public offerings and share placements for a wider group of investors, including those who normally don't get a look-in.

This democratisation of finance is expected to continue, but at present, it seems that peer-to-peer lending is here to stay.
To read more, please click on the link below…
Source: The growing popularity of peer-to-peer lending – The Experts | Switzer