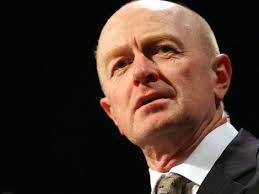 RBA governor Glenn Stevens backs blockchain and tech disruptors
The blockchain technology that underpins controversial crypto-currency bitcoin could bring significant benefits to the global banking system, Reserve Bank of Australia governor Glenn Stevens said.

Speaking in his regular year-end interview with The Australian Financial Review, Mr Stevens said it was important for banks to figure out how the technology could be used to create broader efficiencies in the financial system.

The words of support from a high-profile central banker will be welcomed by banks and start-ups around the world, which are working to develop applications for the relatively new technology. Blockchain is a digital record of transactions spread across separate computers designed to withstand tampering even by the people who operate the computers.

"Blockchain is actually the bit about bitcoin that was, I think, the really clever bit," Mr Stevens said.
Source: RBA governor Glenn Stevens backs blockchain and tech disruptors | afr.com