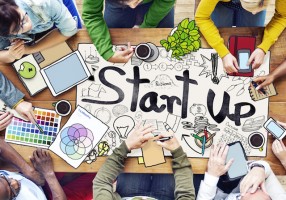 Peek inside the Fintech arms race between banks and startups
Brick-and-mortar banks are in desperate need of a makeover. They know it too. Capital One is opening Capital One Cafes in major cities across the U.S., with hip decor and more laidback consulting vibes than traditional branches. JPMorgan is trying the same idea with its Manhattan technology hub. Bloomberg reported the bank's $9.6 billion technology budget coincided with new startup-style offices featuring foosball tables, open workspaces and snacks. But it might be too little, too late.

Banks aren't changing things up just because they want street cred. They see the writing on the wall. Startups like PayPal and SoFi have become some of the nation's largest online lenders, offering all kinds of personalized and flexible financial services, from small business loans to mortgages.

While, money transfer apps like Apple Pay, Venmo and WorldRemit garner widespread adoption, some experts predict banks could also lose well over half their retail profits to fintech startups. Flashy offices won't change the fact that the days of traditional banking are over.

"They still think it's about improving their website, improving their UX, but basically still selling the same products," Nubank CEO David Vélez told International Business Times. "They need to rethink their culture." Nubank is a mobile Brazilian credit card company, partnered with Goldman Sachs, with more than 13 million credit card applications and 500,000 people on their waiting list.

Nubank looks beyond traditional credit scores, using cellphone data and driver's license information to find creditworthy customers who would never meet the requirements of a traditional bank. Like SoFi mortgages in the U.S., Nubank interest rates are flexible and can change as the customer's financial security increases. Combine that with a lack of fees plus a smooth mobile experience, and traditional credit cards seem very outdated by comparison.
To read more, please click on the link below…
Source: Peek Inside The Fintech Arms Race Between Banks And Startups | International Business Times