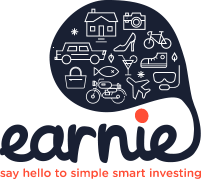 Infocus enters Robo-Advice Market with earnie.com.au
Infocus Wealth Management (Infocus) today announced the launch of earnie.com.au, the group's direct-to-consumer financial advice solution. earnie.com.au is available at no cost for consumers, providing simple smart investing for Australians from all walks of life.

Launching earnie.com.au delivers Infocus access to the rapidly emerging market in direct to consumer advice. In combination with national operations spanning face-to-face financial advice, funds management and wealth technology, this makes Infocus an exciting prospect.

Rod Bristow, Managing Director and CEO of Infocus, said "Around 80 per cent of the Australian population don't currently receive financial advice. We are really excited to be launching earnie.com.au today to help bridge this gap. Those who sign up to invest with earnie.com.au will love its flexible, easy-to-use interface and education and support tools that help users meet their financial goals. earnie.com.au really is about simple, smart investing, allowing users to set their money free. Best of all, earnie.com.au doesn't cost a thing!", he said.

Mr Bristow said, "Robo-advice (or more accurately, direct-to-consumer advice) is not about replacing Financial Advisers, who play a critical role in helping consumers understand and meet their financial goals. It's about offering more Australians choice in the way they engage with advice".

earnie.com.au leverages the capability of global partners Morningstar and Praemium. Morningstar's sophisticated investment calculation methodology supports some of the largest direct advice providers in the US and has been specifically modified for application to the Australian investment environment. Where users invest directly, investments are made via technology partner Praemium (ASX: PPS). Praemium's innovative technology is deeply integrated into earnie.com.au.

Praemium CEO Michael Ohanessian commented, "We are delighted to be extending our relationship with Infocus. The combination of Infocus's quality advice, Morningstar's direct-to-consumer methodology and Praemium's robust and sophisticated technology will make it easy for first-time investors to engage meaningfully with financial planning."

Users of earnie.com.au will reap the benefits of this approach. earnie.com.au enables users to manage their own investments, or seek advice from one of the Infocus Group's experienced Financial Advisers, initially through live chat. These same Advisers can also use earnie.com.au to explain the concepts of financial advice to clients. This gives users of earnie.com.au flexibility about how they want to engage with financial advice: and also means Infocus Group Advisers will benefit from engagement with more educated consumers.
To read more click on the link below…
Source: Infocus Enters Robo-Advice Market with earnie.com.au – ProfessionalPlanner.com.au