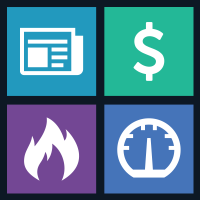 INDX.GURU is the latest fintech startup looking to decode the stock market and be a champion for everyday investors
From Simply Wall St to Stockspot and StockLight to FirstStep, many Australian startups have emerged in the past few years attempting to decode the stock market, make it more accessible to investors of all ages and experience levels and offer an alternative option to paying financial advisors exorbitant fees to manage investment portfolios. The latest market entrant is Sydney-based INDX.GURU. In similar spirit to its predecessors, INDX.GURU wants to be the fourth estate of the stock market industry, bringing much-needed transparency to an industry rife with jargon that's indecipherable to the average investor, and using technology to empower self-directed investors to manage their own investment portfolios.

Founded by John Atkinson and Ted Schrauth, INDX.GURU is a mobile application that provides users access to the information they need – presented in a real-time, easy-to-use interface – to make smarter investment decisions on companies listed on the stock market. The startup describes itself as 'a Bloomberg-like terminal, available to everybody at a cost anybody can afford'.
Source: INDX.GURU is the latest fintech startup looking to decode the stock market and be a champion for everyday investors – Startup Daily