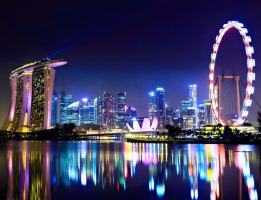 How Singapore is primed to build Fintech Talent
Fintech is a burgeoning industry and leveraging it is a step in the right direction for Singapore to become the world's first "Smart Nation"—a city-state connected and empowered by technology in all facets of everyday life.

Last November, the Monetary Authority of Singapore (MAS) informed the country of its commitment to invest in the fintech sector by staging the Fintech Festival in collaboration with The Association of Banks Singapore. This event saw participation from around 50 countries and more than 10,000 participants. It even saw appearances from Microsoft, Paypal, Citi, and other market biggies.

Why fintech?

There is no dearth of financial startups, especially in the Asian markets of China, Japan, India, Philippines, Thailand, and Malaysia. This wave of fintech startups has also ignited Singapore to position itself as a global leader in the competitive economic sphere.

The impact of technology on finance in recent years has been unfathomable. According to The Pulse of Fintech, global investments of US$19.1 billion was pumped into fintech companies in 2015 alone. The Singapore government and the central bank are not shying away from funding fintech projects with "proof of concept" either.

It can be argued that the startup culture, especially the rise of fintech startups, is here to stay. Innumerable employment opportunities with skill requirements and advanced job responsibilities are undoubtedly being developed, and the people of Singapore should be ready to embrace them.

How is Singapore adapting to fintech?

According to the Infocomm Development Authority (IDA), 2014 saw 15,000 vacancies in jobs for technology professionals, and the situation is said to only get worse. While fintech startups can get funding through crowdfunding, schemes by MAS such as the FSTI, and other opportunities, what the industry currently lacks is a supply of qualified candidates.

With the country transitioning toward digital banking and fintech, niche employment requirements in data analytics, cyber security, and application development will surge in demand this year. However, the IDA predicts Singapore will see a shortage of 30,000 information technology professionals.

What is the country's next move toward fintech talent fulfillment?

Now that the elephant in the room has been recognized and acknowledged, Singapore is taking measures to bridge the gap in cultivating a pool of fintech talent.
To read more, please click on the link below…
Source: How Singapore Is Primed to Build Fintech Talent | The Independent