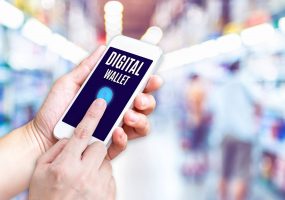 Hong Kong news stands to accept cashless payments in bid to boost business
With their numbers dwindling, news vendors will now accept cashless payments from e-wallet firm TNG Wallet.

Hong Kong's half-century-old news stand industry has teamed up with a home-grown electronic wallet firm, hoping to rescue their dwindling business by tapping into the fast growing digital world.

From Wednesday, people will be able to buy newspapers and magazines by simply scanning a QR code through TNG Wallet's mobile application at about 30 stalls in Central and the Western district. The service will be further expanded to 100 operators across 18 districts by the end of April.

The move is a step forward for the city's 400 cash-only news stands, who are struggling to survive amid a deteriorating reading culture and rising digital platforms.

"News stand operators should keep pace with the times … We hope business could improve by adopting electronic wallets," Coalition of Hong Kong Newspaper and Magazine Merchants chairman Bacon Liu Sair-ching said.

He said news stand businesses had been facing fiercer competition from convenience stores in recent years, which accept multiple cashless payment methods, while providing a greater variety of goods.

However, under the current law in Hong Kong, news stands are only allowed to sell 12 types of goods other than newspaper and magazines.

"We have to reform to survive," Liu said, hoping the new payment method could bring more tech-savvy customers.

More than a thousand news stands have been put out of business in recent years, he said, and numbers have dropped from more than 2,000 at their peak, to only about 400 now.

To increase their competitiveness, the chairman said he had previously approached operator of Octopus cards for possible co-operation, but found the costs were too high given the thin profit margins of small stalls. Vendors would have to pay 1.5 per cent of their takings to the firm, in addition to extra fees to install the card reader machines.

By contrast, TNG Wallet, a Hong Kong-based electronic payment company, founded 15 months ago, decided to provide the service for free.
To read more, please click on the link below…
Source: Hong Kong news stands to accept cashless payments in bid to boost business | South China Morning Post