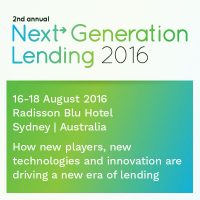 Financial Leaders share their strategies to maintain their edge in the new era of Lending
Next Generation Lending 2016
16-18 August | Radisson Blu Hotel Sydney
Australia is experiencing phenomenal growth in FinTech, with its alternative finance market growing by 320 per cent in 2015. With the industry's wealth of talent and investment, it has successfully engaged the government and the regulator, ASIC to actively work together to promote innovation and digital disruption in financial services. So how is this evolving financial 'revolution' changing the traditional lending business model, who has the competitive edge and how is the industry benefitting as a whole?
The 2nd annual Next Generation Lending conference, taking place in Sydney this August, will provide an in-depth look at how new players, technologies and innovation are playing a part in driving the new era of lending in Australia.
The conference once again brings together leaders and senior managers from the banking, NBFI and FinTech sectors for a high level discussion on the latest developments that are driving the market dynamics in retail and commercial lending business models. Hear from the majors, the challengers and the innovators leading the charge in developing and implementing solutions for the industry to improve and simplify operations; to move toward virtual channels; to improve customer experience; and to increase sophistication in methods to reach, engage, and retain customers.
The conference will feature heavy hitting international speakers Alex Sion, President of Moven (USA); Ismail Chaib, COO of Open Bank Project (Germany); Bernard Del Rey, CEO of Capital Preferences; and a number of CEOs and C-level executives from Australia's leading banks and emerging lenders – CBA, ANZ, NAB, Westpac, Bankwest, ME Bank, Auswide Bank, Thincats, Money Place, RateSetter, PayPal, Banjo, MarketLend, Kikka Capital and many more.
For full details on speakers, the agenda and more at the Next Generation Lending conference 2016, please download a conference brochure here http://bit.ly/NGLbr16