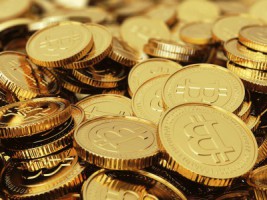 Bitcoin hits two-year high
The price of the digital currency bitcoin hit a two-year high yesterday, trading above $US700 for the first time since 2014, after it jumped 21 per cent over the weekend.

The surge came days before an unusual event called the "halving", an adjustment to bitcoin's protocol designed to control the creation of new coins.

The last time the currency traded at this level — as high as $US719 yesterday, according to data provider CoinDesk — was February 2014, when it was coming down from its December 2013 high of $US1147.

Bitcoin, launched in 2009, is a digital currency that runs on a decentralised network of computers and isn't backed or controlled by any government. Trading volume is growing but remains thin relative to other capital markets, so a small amount of trading can trigger large swings in prices. About 400,000 bitcoins, worth about $US279 million ($377m), traded hands from Sunday through to Monday afternoon US time, according to Coincap, which follows virtual currencies.

Other factors could have contributed to the recent rise. Bitcoin is a popular speculative trade in China. And bitcoin, with gold-like qualities as a store of value, sometimes gets a boost when investors in broader markets start seeking havens.

The biggest driver of the recent move, though, is probably a rare bitcoin event coming within a month: the halving.

A quick explanation: bitcoin is designed to be run by a network of computers that independently confirm transactions on the network. To ensure that individuals are willing to contribute their computing power, a reward is included for every block of transactions confirmed: a batch of newly created bitcoins. Because this process somewhat resembles physical mining, the contributors are dubbed the "miners".

When bitcoin was released, it had a cap programmed into it: no more than 21 million bitcoins would ever be produced (about 15.7 million have been mined so far). To ensure that those bitcoins would be mined over a long time (well into the next century), certain speed bumps were programmed in.
To read more please click on the link below…
Source: Bitcoin hits two-year high – The Australian