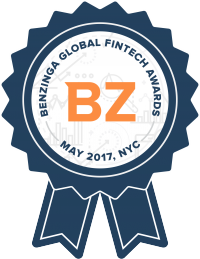 The Benzinga Global Fintech Awards – entries closing soon
The Benzinga Global Fintech Awards May 11, 2017 in New York, is the premier event in Fintech, celebrating financial innovation from around the world.
The Benzinga Awards is a competition to showcase the companies with the most impressive technology, who are paving the future in financial services and capital markets!
Applications are still open, so apply now before the March 17 deadline.
At the event, you'll get a first look at groundbreaking technology, innovative platforms, and the chance to network freely with top industry professionals.
Over 550 FinTech CEOs, C-suite executives of financial institutions, VCs, press, and others attended the 2016 Benzinga Fintech Awards. 45 exclusive exhibitor spots on the show floor sold out within the first few months after the event's announcement.
For more details, go to Benzinga Global Fintech Awards or the International FinTech Events page here.