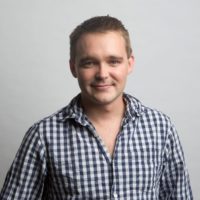 Wyatt Roy joins Sunrise's David Koch in fintech fund H2Ocean
Former assistant minister for innovation Wyatt Roy has taken his first jobpost-politics, joining Sunrise host David Koch as an independent director of a proposed $55 million publicly listed fintech fund.

Mr Roy, who was dumped from his seat of Longman in the last election, settled on a role with H2Ocean where he'll be paid $60,000 per year, and will hold 10,000 shares at the offer's completion.

According to H2Ocean's prospectus Mr Roy will join David Koch and Beyond Bank Australia chair Anne O'Donnell at the fund co-founded by Ben and Toby Heap, which will be offering a "diversified global portfolio of early and growth stage financial technology companies".

The fund will be seeking to raise a minimum of $27.5m and up to $55m through the ASX.

"The fintech space in this country is an incredible space to be, and H2Ocean provides an opportunity to be a proactive player in a key part of the future of the Australian economy," Mr Roy told The Australian, adding he would be taking an overseas sabbatical with some friends before taking up the new role.

"I've been fortunate having served as the assistant minister for innovation so I have a unique perspective into the Australian innovation ecosystem and understanding of policy settings when it comes to dealing with governments, which is obviously pretty important for the fintech space," he said.

"I'm excited about what I can contribute but I'm more excited about working with the remarkable people like Ben and Toby, Anne and David."

Mr Roy defended the government's innovation agenda and its role in the election.

"You can't turn off the internet, and you can't stop the world from becoming a smaller and more interconnected place," he said.

"There are always powerful forces of inertia or resistance whether that's political, bureaucratic or otherwise, but I'm deeply optimistic about the future of this country and what we can achieve. We just need to have the conversation."

Ben Heap said the fund's aim was to help everyday investors access fintech investment, and said he thought Mr Roy had "terrific experience for someone still relatively young".
Source: Wyatt Roy joins Sunrise's David Koch in fintech fund H2Ocean – The Australian