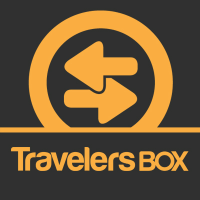 With TravelersBox, turn foreign change at airports into digital currency and iTunes credit
It's a dilemma that travelers have faced for decades: You're heading home from a foreign country with a handful or two of spare change. It's not enough to exchange or buy something at the airport, so what do you do with it? TravelersBox hopes to answer that question.

The company has kiosks placed in 10 countries around the world, including Turkey, Georgia, Italy, the Philippines, Israel, and Japan. Users feed their spare change into the machine and can choose to have it converted into a number of useful digital items, from iTunes credit to Starbucks gift cards to PayPal deposits.

TravelersBox machines aren't the first of their kind. In 2015, the first FourEx machine, installed at Kings Cross Station in London, allowed users to turn more than 150 different currencies into pounds, dollars, and euros at a lower exchange rate than staffed exchanges. TravelersBox is unique, however, in that it converts cash into digital currency that can be used anywhere, worldwide.

TravelersBox CEO Tomer Zussman recognizes that his kiosks will become obsolete as the world transitions away from using cash. But a cashless society could be decades away, he notes, and in the meantime, TravelersBox will provide a convenient money exchange while the company collects 7 percent of each transaction.
To read more, please click on the link below…
Source: With TravelersBox, foreign change at airport can be iTunes credit – Geektime.com