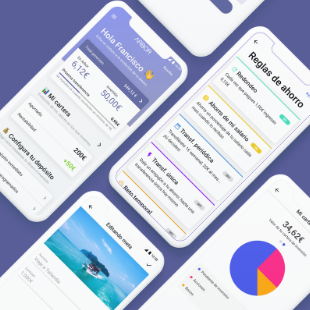 Wisr makes strategic investment in European financial wellness fintech platform Arbor
Australian Stock Exchange-listed fintech Wisr announce today it has executed a term sheet to invest, via a convertible loan structure, in European financial wellness fintech platform, Arbor. If converted, the investment will give Wisr a small minority shareholding in Arbor, with a pathway to potentially increase the shareholding to 45% over the next 36 months. Any additional investment is at Wisr's option, subject to future valuation thresholds and contingent on various milestones being achieved. The investment remains subject to finalisation of due diligence and legal documentation which is anticipated by the end of April 2021.
Founded in 2017, Arbor has accumulated almost 100,000 customers in the EU market and is rapidly scaling with a 20% month-on-month growth rate and a robust retention track record. Similar to the Wisr Platform, Arbor has built a holistic personal finance platform with a complimentary suite of products that help to improve customer's financial wellness. Arbor's current offerings include a digital wallet delivering savings, investment, debt repayment features and a recently launched "ethical loan" product.
Anthony Nantes, Chief Executive Officer, Wisr said, "This is a small but highly strategic first step in taking Wisr's business model global and we're very excited to be partnering with Arbor on this journey. Before making this strategic investment, we spent considerable time with the CEO, Nicholas Salguero, and his whole team and have been very impressed by their capability and execution to date. We share a clear and united vision of disrupting the outdated consumer credit model with a superior alternative: a highly automated digital lending experience based on market-leading UX, delivered alongside a customer platform that actually improves financial wellness. This allows us to build better, data-driven relationships with customers at every stage of their lifecycle and opens up a number of potential revenue models."
Nantes continued, "We've proven the effectiveness of the Wisr Financial Wellness Platform domestically, with over 350,000 Australians on the platform and our data is showing enormous benefits to both Wisr, and to our customers that use it. While we remain focused on the significant growth potential in our home market, the Arbor investment provides the potential to extend our model into a much bigger market over time (EU circa $1.76 Trillion consumer finance TAM in 2019). The modest upfront consideration means we do not require additional capital for completion, with any follow-on investment staged around the achievement of various milestones and entirely at Wisr's option. We're very excited for the year ahead and look forward to supporting Arbor, sharing IP and capability in our markets, as we both grow truly innovative consumer finance companies that change the landscape for consumers."
Arbor Chief Executive Officer, Nicholas Salguero said, "This partnership will enable us to grow our ethical lending business and scale it across Europe, using our current, rapidly growing user base as a springboard to do so. Wisr´s expertise as an ethical lender is a perfect match for Arbor's mission to improve people's financial wellness across the European continent, adding a highly valuable alternative to traditional lending practices where sadly the customer comes second. This partnership is the first step towards changing that paradigm and we're very excited to be announcing it today."
Alex Vynokur (Arbor Board Member and CEO/Founder of BetaShares) said, "Arbor is backed by a number of forward-thinking investment firms who recognise and understand the immense potential of a purpose-led model, something that is missing in the financial markets around the world. Like Arbor, Wisr has built a genuine platform that not only delivers long-term growth opportunities through a differentiated business model but really does make a difference to the consumer's financial wellbeing. We are the first to market in the EU and ready to scale our holistic value proposition, and now with Wisr, we have a fantastic strategic partner that complements our solution, with significant opportunity for growth ahead."