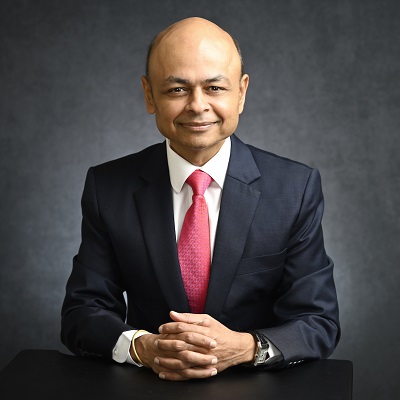 Trust Bank onboards 450,000+ customers in five months utilising FICO Platform to support customer onboarding
Trust Bank, Singapore's first cloud-native bank, has become one of the world's fastest growing digital banks while managing risk using FICO®Platform. Trust acquired 100,000 customers in just ten days after it launched in September 2022 and exceeded 450,000, equivalent to 9 percent of the Singapore market, within just five months. Trust Bank can onboard a customer and deliver a credit card to them digitally on their phone within four minutes.
Trust Bank implemented the customer onboarding and risk management capabilities within FICO® Platform, a cloud-based decisioning platform that allows companies to centralize and operationalize advanced analytics at speed.
"As a CRO, I like the flexibility to be able to make changes quickly so that we can respond to the market and customer feedback," said Lalit Lohia (pictured), Chief Risk Officer at Trust Bank. "FICO Platform helps us to deliver that edge."
A Credit Card in Just Minutes
When Trust launched, creating an exceptional onboarding experience was key. To do so, Trust made its account opening fast and easy for new customers. The seamless digital approval process enabled Trust to deliver an average onboarding time of under three minutes for a savings account and under four minutes for a credit card, creating a new onboarding experience for the market.
"A seamless and delightful customer onboarding experience was a must-have for Trust," said Vishnu Thilak, Head of Onboarding and Customer Identity & Access Management at Trust Bank. "New applicants are able to pre-fill almost all of the application data seamlessly using Singapore's advanced digital identity and data authentication infrastructure. This creates a highly automated digital onboarding journey for our customers."
Trust combines this fast onboarding journey with comprehensive risk assessment by using predictive models, analytics and parameters built into its decision engine. Applicable regulations on lending are also implemented via this solution.
"We combine risk management fundamentals with data science and customer segmentation to help us arrive at optimum risk outcomes," said Lohia. "FICO Platform allows us to simultaneously take care of credit risk and regulatory risk within a single solution."
A Scalable, Flexible Platform
Following its launch, Trust received feedback from customers on how it could refine its offering. In a demonstration of its agility, Trust built and released in-App features in rapid timing to enhance its customer experience.
"The flexibility of FICO Platform meant we could create the new credit card product in just a matter of days from idea to execution," added Lohia. "This has changed the way we do business as we can see market outcomes in near real time, and our risk strategy team can roll out changes rapidly."
FICO Platform is designed to empower business users to write, edit, and maintain their own business logic, increasing the speed and efficiency of changes. The business was able to react rapidly and make policy adjustments in near real time.
"Agility, precision and an intuitive customer experience was crucial to Trust Bank making such a substantial impact in Singapore," said Nikhil Behl chief marketing officer at FICO. "The decision engine in FICO Platform helped deliver a market-leading digital experience with rapid time to market and time to value. Trust Bank's leadership and faith in the approach has seen them carve out a significant customer base in one of the most advanced and well-banked markets in the world."
For its achievements, Trust Bank won a 2023 FICO® Decisions Award for Customer Onboarding & Management.
"Executing the integration needed to create a seamless onboarding process is difficult," said Martin Elliott, General Manager Consumer Lending and Insurance Partnerships at BNZ and one of the FICO Decisions Awards judges. "Trust Bank designed a great origination process and made use of the technologies in an innovative way. They used cloud, data and decision management to deliver a system that was fast and flexible while still meeting risk management requirements."