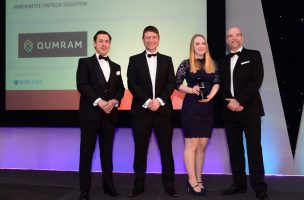 Qumram Voted 'Most Innovative FinTech' by Swiss Bankers and Wealth Managers
Qumram, a leading global RegTech firm providing digital compliance and risk management solutions, has been recognized as the 'Most Innovative FinTech' at the 4th Annual WealthBriefing Swiss Awards 2017. The awards ceremony, attended by more than 230 members of the Swiss private banking and wealth management community, took place on 9 February 2017.
"Qumram drives innovation by removing compliance as a barrier, and leveraging big data collected for compliance to grow revenue," said Stephen Harris, ClearView Financial Media's CEO, and Publisher of WealthBriefing, who presented the award alongside Barclays Bank (Suisse) CEO James Buchanan-Michaelson. "These awards truly reflect excellence in wealth management," said Harris. "The watchwords of the judging process are 'independence', 'integrity' and 'genuine insight'."
Speaking of Qumram's success, Nino Marsolo, Head of Collaboration and Communications Platforms at UBS commented: "UBS has experienced the innovation of Qumram since 2013, and we are delighted to see their efforts rewarded by these awards."
Qumram allows all digital activity and interactions (web, social, mobile) to be recorded and replayed, in movie-like form, providing a transparent digital audit trail for financial services organizations. Qumram enables global banks, investment and wealth management firms, insurance companies, and other financial institutions, to comply with regulatory requirements for digital record-keeping: MIFID-II, GDPR, ESMA, FFSA, FIDLEG, and more. Qumram also facilitates fraud detection (monitoring digital behavior of employees as well as interactions from external sources), and delivers actionable insights that improve customer experience.
Patrick Barnert, CEO at Qumram, commented: "It is an honor to win this prestigious award, so soon after receiving the Private Banker International 'Best Front-end Digital Solution' award in December. These awards are a testament to the innovative qualities of our digital compliance solution, and the dedication of our team to deliver projects that succeed and drive value. Judges in both contests complimented the value-add that we provide, beyond compliance. Qumram uses the big data gathered for compliance to gain insight into customer behavior, which drives a far more customer-centric approach. The opportunity to leverage spend on regulatory compliance to drive business and marketing value is unique."