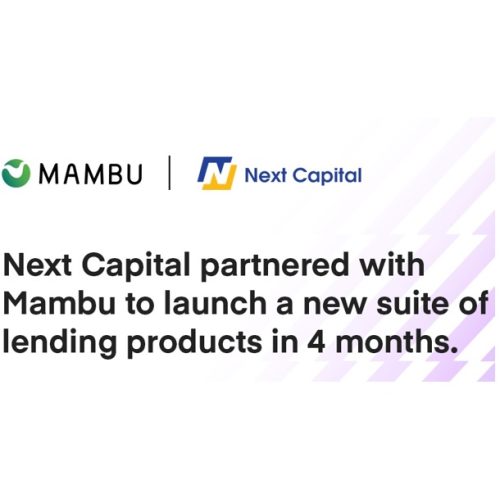 Mambu revs up Thai auto leasing company Next Capital
Leading Thai technology-driven auto leasing company Next Capital Public Company (Next Capital) has partnered with innovative global fintech Mambu, launching a new suite of lending products on Mambu's SaaS cloud-native core banking and lending platform in just four months, enabling Next Capital to transform into a next-generation full-service digital lender.
Punnamas Vichitkulwongsa, CEO of Next Capital, said, "At Next Capital, our mission is to become the trusted financial services partner for the underbanked. Innovations and technology are the key part to enabling our core strategy to create products and services that best meet our customer needs and create sustainable meaningful competitive advantages.  As we look to expand our services beyond vehicle hire purchase loans for individuals and SMEs to become a digitally enabled, full-service lender, it is imperative that our technology foundation is flexible and scalable so we can respond accordingly as our business evolves."
Chaiwit Laohawaleesan, Head of Technology at Next Capital added, "We selected Mambu's cloud-native platform to launch our new innovative lending products, starting from automobile title loans, as we needed a solution that could scale efficiently as our business grows. We were impressed at the speed that Mambu could execute the implementation and we are excited at the possibilities that having Mambu at our core will mean in terms of delivering innovative and customer-centric lending solutions to our customers. We are also grateful for Mambu's dedicated and professional team who ensured the project ran smoothly and without any issues."
Next Capital went live on Mambu's cloud banking and lending platform in just four months, without the need to bring in a third-party System Integrator. Mambu's platform provides the Loan Management System while the Loan Origination Application and entire system design and integration efforts are handled by Next Capital's capable in-house technology team. Leveraging Mambu's API-first platform will also enable Next Capital to connect with other technology vendors to offer new products and services as consumer demands dictate.
Mambu has a growing in-country presence in Thailand and has recently appointed Country Manager, Thailand, Woratep Yunyongkul, as well as Regional Partner Manager for Thailand, Wiwat Masuchun.
David Brady, Sales Director SEA at Mambu, said, "It has been incredibly rewarding for Mambu to work with Next Capital on this project, with our two companies sharing a passion for leveraging next-gen technology to create more accessible financial solutions for Thai consumers. Launching the new service within four months of kick-off is a clear indicator of our successful and synergistic relationship, and we are very proud of the outcome of this partnership."