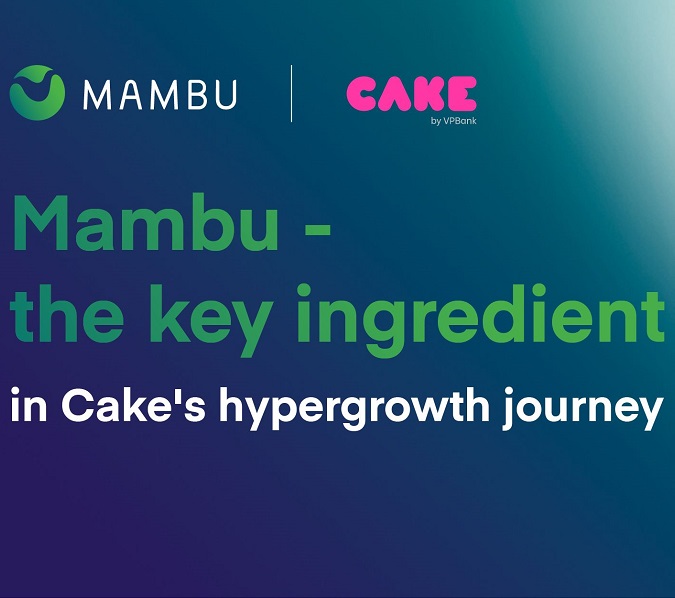 Mambu facilitates hypergrowth for Cake, dominates Asia Pacific cloud banking platform market
Market leading SaaS cloud banking platform Mambu has worked with innovative Vietnamese digital bank Cake – a collaboration between Be Group and VPBank – to replace its core banking technology in just 74 days, in a record for the region. The core replacement project will enable Cake to rapidly launch flexible and unique products, as well as shorten processing times.
Originally launched in January 2021, Cake sought to replace its core banking technology with Mambu's platform in order to support its current hypergrowth stage. It is the first digital bank in Vietnam to be linked to a ride-hailing app, and plans to reach 30 million customers by the end of this decade.
Pham Quang Minh, General Manager Vietnam at Mambu, said, "Mambu is very proud of what we have achieved with Cake, implementing this core replacement project in less than three months. Cake selected Mambu as it needed maximum agility and flexibility alongside the power to offer full banking solutions, and our unrivalled speed-to-market was obviously another big selling point."
Nguyen Huu Quang, CEO of beFinancial, said, "It was our goal to have our new digital bank offering available for customers in the quickest possible time, with easily accessible banking services, and Mambu has helped to make this goal achievable. We now look forward to offering Cake to existing and new customers across Vietnam."
"This core banking transition has resulted in increased power for Cake's technology, and our customer experience is faster and safer than before thanks to this change. The new core banking platform also enables Cake to launch more groundbreaking and complex products which meet the future digital banking needs of our customers," shared Tu The Hien, CTO of Be Group.
Mambu Asia Pacific, which is headquartered in Singapore and includes in-country leadership teams in Vietnam, Malaysia, Indonesia, Thailand and Australia, has had an exceptional 2021 to date, securing a raft of new customers across the region, including high profile financial service providers like Bank Islam in Malaysia, Bank Jago in Indonesia, Cake and Timo in Vietnam and Bluestone in Australia, among others.
Mambu has undergone a period of significant growth throughout 2021, doubling the Asia Pacific team and growing its presence in more countries within the region.
"The pace of fintech innovation across Asia Pacific over the last two years has been phenomenal," said Mr Myles Bertrand, Managing Director, Mambu APAC, "and we are seeing banks launching products and concepts we could only dream of just a few short years ago. While the pandemic certainly accelerated the adoption of digital banking technologies, the key driver today is really consumer demand. Consumers have had a taste of digital banking and now understand the benefits – convenience, speed, lower cost – and they don't want to go back to the 'old' ways of managing their money."
A key focus for Mambu is on improving access to financial services for consumers who are currently excluded from the traditional financial services industry, with the company seeing technology as the greatest enabler of financial inclusion.
"Today we're seeing consumers who have never had access to financial services before able to access credit, save money and make transactions all from their smartphones," added Bertrand. "Fintech innovations like mobile banking and payment apps have literally changed lives, and digital banking services are going to continue being essential, particularly for micro, small and medium enterprises that are still on a post-pandemic recovery journey. We've been saying that the future of banking must be customer-centric for a long time, so it's very interesting to see that it's now those changing consumer demands that are driving continuous improvements and innovation in the industry."