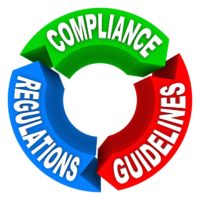 IRTA International RegTech Association officially launched
Incorporated in Switzerland on May 16, 2017, the non-profit International RegTech Association (IRTA) is a united community of individuals and organizations, with a shared vision to innovate, advance, and influence the future of Regulatory Technology (RegTech).
Sponsored and funded by its Members, the IRTA exists to ease and accelerate the evolution of the global RegTech ecosystem, through integration, collaboration, and knowledge-sharing. The IRTA brings together the people, tools, processes, and policies that are required to thrive in today's rapidly evolving RegTech landscape.
The IRTA is a unique, global organization of people, which believes in creating RegTech as a profession, and enabling Innovation-in Trust as a key benefactor for the future of Financial Services, and other heavily regulated industry sectors.
Fostering a collaborative, consultative, and innovative working environment, the IRTA
Operates in key markets and economies, internationally
Supports the entire RegTech ecosystem
Represents the interests of RegTech providers and consumers globally – including technology firms, service providers, professional advisers, and financial institutions
Engages and liaises with the most influential financial regulators and academics
Promotes the advancement of the RegTech profession, through RegTech research, innovation initiatives, and standards development
Supports RegTech accelerators, and delivers professional education, and certification
Works in collaboration with existing industry Associations, Agencies and other international organizations
According to Subas Roy, newly appointed Global Chair at the IRTA, "The IRTA believes in the globally integrated, hybrid ecosystem, and supports the premise that the whole is very much greater than the sum of the parts. The IRTA community is a combination of talented, agile and experienced minds, striving for innovation, and to establish RegTech as a profession for the years to come."
"We stand in one of the most exciting times, as the innovation and international collaboration for RegTech continue to expand. For the first time in over 40 years, innovation in RegTech is taking precedence over innovation in new Financial Services markets and products. This reflects the fundamental, enabling role of RegTech, and how it is already helping to shape and determine the future of Financial Services, including its competitive advantage," said Roy.
At the heart of the IRTA is the Executive Board – a leadership team comprising 23 RegTech, Legal and Compliance experts, Academics, Bankers, Practitioners and Visionaries, which is committed to the secure and successful deployment of RegTech, across all regions. The Executive Board will determine the strategy, working policies, and code of ethics of the Association.
Executive Board Members
Chair – Subas Roy, Former Global Head of RegTech, EY
Executive Board Members
Bruno Abrioux, Former Japan Chief Administration Officer, FIS
Henri Arslanian, FinTech and RegTech Leader, China & Hong Kong, PwC
Janos Barberis, Founder, SuperCharger & PhD Candidate HKU Law
Jo Ann Barefoot, CEO, Barefoot Innovation Group & Senior Fellow, Harvard University
Patrick Barnert, CEO, Qumram
Steven Burman, Executive Board Member
John Byrne, CEO, Corlytics
Nicola Cowburn, CMO, Qumram
Matt Elton, CEO, FinnoLux & RegTech Canada
Julian Fenwick, Founder & Managing Director, GRC Solutions
Brad Giemza, CTO MUFG Americas, Union Bank & Co-founder, NeoRM
Michael Jünemann, Partner & Head of Banking & Finance Germany, Bird & Bird LLP
Michael Meyer, Co-founder & CEO, RegTech Lab
Scott Nelson, CEO, BIGcontrols
Diana Paredes, Co-founder & CEO, Suade Labs
Ben Richmond, Founder & CEO, CUBE
Stefan Sulistyo, Co-founder & CEO, Alyne
Julia Walker, Head of Market Development, Risk, Thomson Reuters Asia Pacific
Jane Walshe, Co-founder & CEO, Enforcd
Gino Wirthensohn, Co-founder & CEO, Riskifer
Erkan Wisler, RegTech Entrepreneur (from October 2017)
Mona Zoet, Co-founder, RegPac & Partner, FinTech Consortium
Initially, the IRTA will operate three RegTech Advisory Councils, working in the areas of standards development and research, innovation and adoption for Regulators, and innovation and adoption for the wider market. Leading these Advisory Councils are Diana Parades, who is appointed as the Vice-chair of Innovation, Michael Meyer, who will lead Regulatory Relations, and Steven Burman, as Head of the Wider Markets Advisory Council.
Steve Bailey, Director, Medius Consulting, Geraldine Gibson, CEO, AQMetrics, and Danielle Deibler, Founder and CEO at Compliance.ai, are inaugural Advisory Council Members.
IRTA Regional Chapters will be established in key markets, with a primary role of representing local RegTech interests, and facilitating collaboration and integration, through networking, research and professional education.
Vice Chair
Chapter President
Chapter Co-ordinators
Europe
Patrick Barnert
UK-Ben Richmond
CH-Ralf Huber
UK-Richard Maton
CH-Gino Wirthensohn
Americas
Matt Elton
NY-Matt Elton (interim)
LA-Brad Giemza
NY-Pooneh Mohazzabi
SF-Scott Nelson; Danielle Deibler
Asia Pacific
Julia Walker
SG-Mona Zoet
HK-Henri Arslanian
Oceania
Julian Fenwick
AU-Julian Fenwick
JP-Bruno Abrioux
IRTA membership is available to any individual or organization interested in the advancement of RegTech. A variety of membership packages is available, for RegTech and FinTech service and solution providers, Regulated Financial Institutions, Regulators, Legal firms, Government, Academia, Consultancies, and Individuals. All members registered by August 31, 2017 will qualify for a 50% reduction on regular membership rates, and will be recognized as an "IRTA Founding Member", eligible to use the IRTA Founding Member logo. Full membership details will be available online from Tuesday July 11, 2017 at www.regtechassociation.org/membership