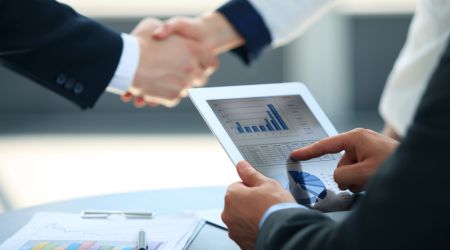 How partnerships are driving this fintech lender forward
Small business lender GetCapital is utilising strategic partnerships to benefit its customers. Fintech companies were originally thought of as disruptors, but as the game continues the rules are starting to change. Today, you're more likely to see banks and corporates building bridges with fintech companies rather than putting up defensive walls. This is the case for GetCapital, a small business lender sharing its reins with business heavyweights such as Qantas and Alibaba.
Established in 2013, GetCapital started providing standard small business loans to Australian businesses and has now diversified it to include trade finance and invoice discounting. GetCapital CEO Jamie Osborn says the idea is to provide an online small business loan coupled with old-school relationship banking.

"The rationale behind launching the business was really trying to solve that problem of that gap that the banks aren't filling in providing new finance, and we've been focused on that problem ever since."

The small business lending space, particularly with fintech lenders, has exploded since the business lender launched, but Osborn says a key difference for GetCapital is a balance between "fin" and "tech".

"We provide an old-school relationship banking like the banks used to do 20 years ago and try and find a solution for the customer across our product set, but at the same time, we're leveraging technology to do that super-efficiently…So I think we're playing in a different space."

Part of playing in that different space has been forming strategic partnerships. Two key partnerships for GetCapital are Qantas, allowing borrowers to receive 1 Qantas Aquire Point per dollar borrowed, and Alibaba, through which GetCapital offers a tailored product for buyers and sellers on the platform. While there are no banks currently counted among GetCapital's partners, Osborn says he would be open to it, but the partnership has to be the right fit.

"We kind of say internally, '2016 was the year of people announcing partnerships'. We think 2017 will be actually doing real partnerships. So it's one thing to announce something, but the detail of that really, really matters and so what I mean by that is both parties need to be fully aligned and incentivised to make it work," he said.
To read the full article, click the link below:
Source: How partnerships are driving this fintech lender forward | finder.com.au