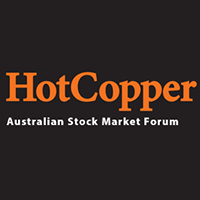 HotCopper lists on ASX
Australia's most popular stock market and investment forum, HotCopper, today announced its successful listing on the ASX.
Chairman Steve James said the business was already performing strongly with significant potential upside due to its large subscriber base of self-directed investors.
"We have around 550,000 unique visitors per month, and 250,000 members who are predominantly retail, sophisticated and SMSF investors," he said. "Our membership base represents a big percentage of the 605,000 Australians who invest through an online broker[1], and numbers are growing every month. We plan to maximise this growth opportunity and make HotCopper an indispensable part of investing in Australia."
Mr James said plans for new revenue streams included launching a mobile app and developing bespoke offers for sophisticated investors through HotCopper's fully-owned and integrated business 708Placements, as well as building on the company's IR capabilities.
"HotCopper is in a unique position in that it allows companies and investors to interact directly with one another," he said. "Building on these capabilities to allow pre-IPO and ASX-listed companies to talk directly to their investors is a near-term growth opportunity for us."
The firm will also explore strategic and joint venture initiatives using its scalable technology platform, Mr James said. "Because HotCopper is essentially a neutral conduit between companies and investors, the business is well suited to JVs," he said. "The underlying technology is highly scalable, so we're actively looking for ways to harness that."
The HotCopper Holdings Ltd IPO prospectus was oversubscribed, with over 50% small- and micro-cap institutional investors. HotCopper commenced trading on the ASX at 9am AWST today under the code 'HOT'.