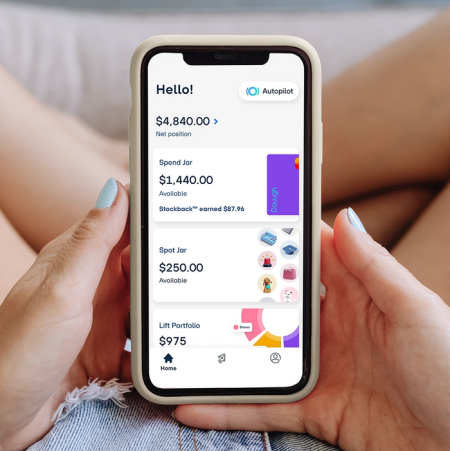 Douugh launches world's first Pay Now or Pay Later Stockback™ rewards Mastercard
Douugh Ltd (ASX: DOU), the award winning consumer fintech on a mission to empower everyday Aussies to take control of their money and build long term wealth on autopilot, has announced the launch of the world's first Pay Now or Pay Later Stockback™ rewards Mastercard.
With the launch of this revolutionary spending and rewards card, designed to help customers 'smooth' their cash flow whilst growing their wealth as they spend. Douugh is bringing to market a truly unique value proposition combining banking and investing services to challenge incumbent monoline financial service providers of debit, credit, investing and rewards offerings in the market today.
For the first time through a single card offering, customers can earn up to 7% Stockback™ on everyday spend. Cashback rewards that are automatically invested into their chosen managed Portfolio on the Douugh platform.
The Pay Now option allows customers to spend funds from their Douugh transaction account. Customers can also choose to Pay Later by having Douugh 'Spot' them funds to smooth their cash flow, splitting purchases into 4x weekly instalments for a flat $1.25 fee per repayment, with no interest or hidden fees.
The Pay Later Spot feature will quickly be expanded to help customers fund bigger purchases over a longer period of time. These micro loans are funded off balance sheet and issued by a third party lender, allowing Douugh to maintain its 'capital-lite' operation.
Stockback™ is Douugh's proprietary rewards offering designed to be the growth catalyst for the acceleration of Douugh's flywheel. Customers earn 'free money' as they spend and become investors. Establishing good money behaviours, thereby encouraging them to commit to a recurring investment using their own money, which Douugh monetises through a monthly subscription.
Distribution through Merchants
Central to Douugh's scale up plan is the launch of Douugh Pay. A payment gateway solution for Merchants to process payments that will be automatically debited from a customer's Douugh transactional account.
For the first time, online Merchants will be able to offer their customers Douugh's unique Stockback™ reward program, with the flexibility of Pay Now or Pay Later features integrated into a seamless checkout experience at point of sale. Douugh will handle the end to end settlement with the Merchant and the Customer. Stockback™ rewards will be funded directly by the Merchant, with Douugh charging a processing fee of ~2.0% to the Merchant. The Douugh Pay gateway product is on track to launch in Q2FY24.
Commenting on the Company's announcement, Douugh's Founder & CEO Andy Taylor said, "The majority of Australians are currently feeling stressed about their finances thanks to the steep increase in interest rates to combat rising inflation. The Aussie dream of owning a home is now increasingly out of reach for gen-z and many millennials. Ontop of this, we are seeing an increase in the use of revolving credit cards to help smooth their cash flow, which increases the likelihood of trapping many people into a spiralling debt cycle due to compounding interest on outstanding balances.
Our recent Wealth Health Report revealed 9 in 10 worry about their financial situation, with more than 1 in 4 saying they're not confident about achieving their savings goals. Additionally, while 86% agree building long term wealth is important, the biggest barriers are the rising cost of living (67%), followed by a lack of savings, unexpected expenses, and living paycheck to paycheck (each 37%).
Consumers simply need a smarter way to spend and grow their money!
We are excited to announce the launch of this revolutionary, world-first PNPL Stockback™ product, designed to help customers grow their money as they spend. A proposition that we have built to align to our mission of helping customers build long term wealth on autopilot.
We are now in position to stand behind a truly unique, mass market value proposition that will disrupt and challenge monoline providers of financial services. Supported by a scalable distribution model through merchant partnerships.
We believe that Stockback™ will become the critical catalyst to deliver a viral growth coefficient that will allow us to reduce reliance on paid marketing activities."
The new Douugh App is available to download via Apple's Testflight and the Google Play store in beta testing mode, accessible initially on an invitation only basis until being made available to all Australians in the coming weeks once the necessary regulatory and issuer approvals have been obtained.
People are encouraged to sign up to the Douugh waitlist today in order to get early access.
The Douugh transaction account is provided by Cuscal Ltd, issued by Zai Australia Pty Ltd. The Douugh Card and Loans are issued by 1derful Pty Ltd, pursuant to a licence agreement with Mastercard. US brokerage and custodian services to facilitate investment activities are issued by DriveWealth LLC.