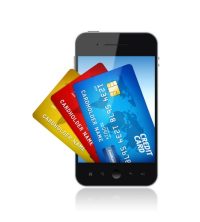 Digital wallet services gain growing acceptance
Money and wallets simply aren't what they used to be.

Tech giants' card-less payment services — including Apple Pay, Android Pay from Google and Samsung Pay — aim to ease the path to the truly digital wallet, and researchers project huge growth in adoption by retailers and consumers. Even staid financial giants such as Wells Fargo and Bank of America are behind a push to encourage and enable customers to access ATMs without their debit cards.

Yet the digital wallet business has gotten off to a rough start, said Bay Area-based analyst Trip Chowdhry, managing director with Global Equities Research.

"There have been many false starts in this industry," Chowdhry said. "The current payment methods are intrusive, and they are not seamless."

Even so, card-less payment services are here to stay.

"Mobile proximity payments, enabled though near-field-communications, are projected to vastly increase to $118 billion in 2018, up from $3.5 billion in 2014," according to a report by Statista, a web-based data and statistics company. "Some of the benefits of mobile payments include the speed of payment, the convenience as well as the integration with pre-existing loyalty and coupon programs."

These benefits point to a brave new world of virtual wallets.

The most common mobile-payment activities include paying bills through a mobile phone or web browser, buying items or digital content remotely with a phone, and paying for goods in a store with a phone, according to the Federal Reserve Bank in a report titled "Consumers and Mobile Financial Services 2016."

As of December 2016, Apple Pay led the way in North American retailers' adoption of mobile-payment systems, with 36 percent acceptance, according to Statista. PayPal had 34 percent acceptance, Mastercard PayPass had 25 percent, Android Pay had 24 percent, Visa CheckOut had 20 percent and Samsung Pay had 18 percent, the report said.
To read more, please click on the link below…
Source: Digital wallet services gain growing acceptance – The Mercury News