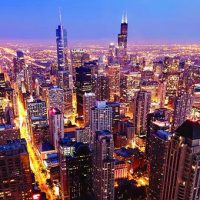 Chicago should be a FinTech hub. So why it isn't?
Chicago has all the building blocks to become a hotbed of financial technology startups—so why isn't it happening?
The latest sign that this years-long dream may never be realized: a plan to create a hub for fintech entrepreneurs and networking at the Chicago Board of Trade building has fallen apart due to lack of capital.
The Chicago area is home to some of the biggest U.S. fintech players, including futures exchange operator CME Group; mutual fund research firm Morningstar; and credit card company Discover. They've groomed a well-paid pool of professionals, some of whom have become entrepreneurs and angel investors. Chicago also has enviable infrastructure: It's one of a half-dozen key vertebrae in the nation's digital backbone, placed at the center of the fiber optic cable connections between New York and California.
Still, Chicago's aim to become a 21st-century fintech center is at best limping along.
"We have a deep bench of experience and talent in this city that no other financial center can match, so it makes sense that Chicago should also be the global leader when it comes to fintech," says Mark Longo, founder of Chicago-based Options Insider Media Group and a group of fintech professionals. "I would love to see the city's leaders take more proactive steps to make that happen."
They've been trying. Mayor Rahm Emanuel's economic development arm, World Business Chicago, started a fintech council a couple of years ago through its ChicagoNext technology initiative. "Our job is to create more technology-related jobs and opportunities in the city," says Mark Tebbe, ChicagoNext chairman and an entrepreneur who founded and sold Chicago internet consulting firm Lante.
LONG WAY TO GO
Establishing a fintech hub that would resemble World Business Chicago's health care innovation center, Matter, has been at the heart of a plan to draw more university graduates to a fintech ecosystem where they could mix with industry veterans and tap funds to launch new businesses.
Fintech is the latest catchphrase nationwide for business development, and Chicago has landed on a few lists of up-and-coming fintech centers. Still, since a wave of high-speed trading firms that emerged at the turn of the century, the city has produced fewer fintech firms over the past decade. Some include online lender Avant, financial research company YCharts, and derivatives operator Eris Exchange, but Chicago has a long way to go relative to other parts of the country.
To read more, please click on the link below…
Source: Chicago should be a fintech hub. So why isn't it? – Crain's Chicago Business