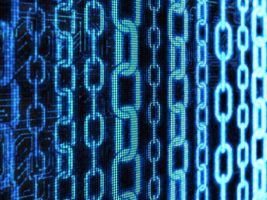 CBA trials blockchain for trade finance
Commonwealth Bank of Australia has successfully used "smart contracts" to execute invoice financing documents and letters of credit with 14 other global banks financing international trade, in another indication that blockchain technology is set to be deployed in the coming years by global banks to reduce costs.

R3 CEV, a consortium of 51 global banks including CBA, said its Corda platform is "significantly faster, more reliable and cost-effective" than traditional trade finance processes that are largely paper-based, risky and open to fraud.

Blockchain refers to networks of computers holding synchronised copies of information.

Corda has been developed by R3 to allow banks to only share what's needed for other banks to confirm assets and cash have changed hands.

CBA, which said at its full-year results on Wednesday it would continue to invest in technology focused on boosting productivity, has completed more than 25 blockchain-related experiments over the past year and believes trade finance is one of the areas offering the most potential for blockchain.

At present CBA has three projects under way with global banks and export clients, including one sending shipments of cotton abroad.

"The focus on innovation, the focus on technology does make life better for our customers, but equally importantly is the focus on productivity and the ongoing efficiency of the bank," CBA chief executive Ian Narev said on Wednesday.

The bank, which operates with a cost-to-income ratio of 42.4 per cent, lifted its investment in the last financial year in technology by 10 per cent to $1.37 billion.

It also pointed to levels of customer satisfaction exceeding those of any other of Australia's big banks.

"Critically for us we have made the decision that ongoing investment in regulation will not crowd out ongoing investment for the benefit of our customers and ongoing investment for the benefit of our shareholders," Mr Narev said.

Smart contracts refer to self-executing transaction agreements operating on a distributed ledger.

Corda trade trial

R3 said on Thursday its distributed ledger platform Corda was used by the 15 banks to process accounts receivable purchase transactions and letters of credit.

R3 CEO David Rutter said traditional processes for trade financing "have become antiquated and unfit for purpose in today's increasingly digital world.

"These trials have proved that the blockchain-inspired technology used on our Corda platform holds the key to transforming trade financing for modern financial markets."

The R3 consortium members involved in the smart contract trial with CBA were Barclays, BBVA, BNP Paribas, Danske Bank, ING Bank, Intesa, Sanpaolo, Natixis, Nordea, Scotiabank, UBS, UniCredit, US Bank and Wells & Fargo.

Westpac Banking Corp, National Australia Bank and Macquarie Group are also members of R3 but were not participants in the latest trial.
To read more, please click link below…