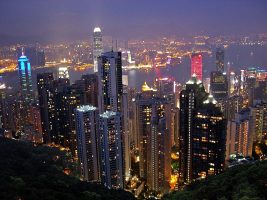 Can Hong Kong compete with Singapore as fintech hub?
Singapore is widely held to be Asia's premier fintech hub, but experts in Hong Kong are confident that the city can catch up.

In a recent study by Deloitte, London and Singapore were found to perform highest as fintech hubs, followed by New York and Silicon Valley. Hong Kong was found to be the sixth most competitive jurisdiction for producing fintech companies and solutions.

At GTR's Asia Trade & Supply Chain Finance Conference 2017 in Hong Kong today, however, fintech dominated the conversation, as a whole roster of banks, companies and individuals queued up to sing the Special Administrative Region of China's virtues as a centre for development.

"I think the fact that Hong Kong and Singapore are such trade hubs make them natural locations for fintech and blockchain development. There are banks, shippers and corporates here, so it's natural that the development here would grow quickly," Connie Leung, senior financial services director for Asia at Microsoft, told GTR at the event.

Leung manages Microsoft's blockchain business around the world and has been working with a number of banks and their clients to accelerate their development in the sector. A comprehensive blockchain solution is not too far away, she said, and it is likely that it will be developed in Asia – most likely in one of the aforementioned hubs.

"I think Asia being an emerging market is interesting for new technologies because it's still emerging – a lot of things are broken. There are so many different currencies, pan-Asia; there's a lot of intra-Asia trade across the markets, so I think there's a lot of demand and momentum, and with government assistance in Hong Kong, driving those initiatives, discussing how to scope the blockchain can help with the technology and underlying infrastructure, that helps shape the market," she added.

However, many of the main developments in the field to date have been in Singapore, such as DBS and Standard Chartered's distributed ledger, launched last year. Furthermore, in Shanghai, the Chinese online lender Dianrong recently partnered with Foxconn, the manufacturing giant, to launch Chained Finance, the world's first vendor financing platform using blockchain technology.

Despite not having any large initiatives such as these, Hong Kong officials are confident that it has a strong role to play. In November 2016, the Hong Kong Monetary Authority (HKMA) published a white paper on distributed ledger technology, and in March, it launched a blockchain trade platform solution.

"It's a competitive market," Charles d'Haussy, head of fintech at Invest HK, responded to a question from GTR. "Everybody sees the opportunity and needs to grab it."

Speaking about the Chained Finance solution specifically, d'Haussy said that Hong Kong can be an integral cog in its operation. The platform will be working with a host of Chinese manufacturers, many of which will have Hong Kong elements to their supply chains. Hong Kong, as is often the case, will use its status as a trade hub to piggyback on developments elsewhere.

Zach Piester is the co-founder of blockchain consultancy Intrepid Ventures, and divides his time between Hong Kong and Singapore. He's in a good position, then, to compare the two when it comes to their competitiveness for fintech companies.
To read more, please click on the link below…
Source: Can Hong Kong compete with Singapore as fintech hub? | Global Trade Review (GTR)