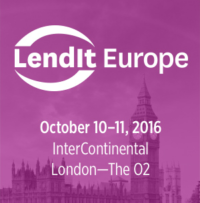 Australian FinTech, Media Partner for LendIt Europe
Australian FinTech is delighted to be a Media Partner for the upcoming LendIt Europe conference, taking place on October 10-11, 2016 in London.
We're very excited to be part of this event and encourage you to attend if you have not already registered.
As a LendIt Europe media partner, we are able to offer you an exclusive discount on LendIt Europe 2016 passes. Use the promo code AF16VIP when registering to receive 15% off your ticket.
Register Now: http://bit.ly/29ZSvTm
Partnered with the P2P Finance Association, LendIt Europe is Europe's largest conference for the online lending community, with 1000 attendees expected in 2016.
Confirmed speakers include:
Peter Behrens, CCO & Co-Founder, RateSetter
Samir Desai, Co-Founder & CEO, Funding Circle
Lord Adair Turner, Senior Fellow, Institute for New Economic Thinking
Christopher Woolard, Director of Strategy & Competition, Financial Conduct Authority
Christine Farnish, Chair, P2PFA
View preliminary agenda: http://www.lendit.com/europe/2016/schedule
Join Australian FinTech in London, and catch up on the latest industry trends, learn from market leaders, form key business alliances and much more.
And remember — you can now save 15% with the VIP code AF16VIP!
LendIt is all about connecting the online lending community. With 150+ speakers, 50+ sessions, 25+ countries, and 2,500+ square metres of exhibition space, you can't afford to miss it! We look forward to seeing you there.