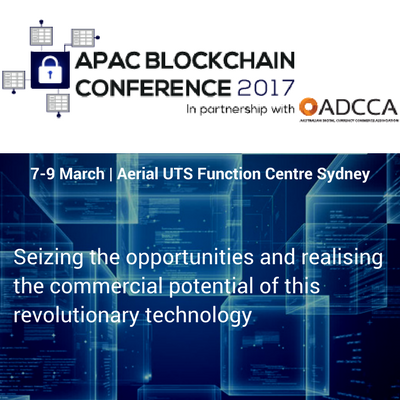 Announcing the APAC Blockchain Conference, Sydney, Australia
Quest Events are excited to announce the launch of the APAC Blockchain Conference, developed in partnership with the Australian Digital Currency Commerce Association (ADCCA) and supported by Australian FinTech, set to take place from 7-9 March 2017 in Sydney.
The event will focus on identifying the opportunities and overcoming the challenges to make revolutionary blockchain technology a reality.
By bringing together over 40 blockchain leaders from across Australia and further afield, the event aims to deliver a comprehensive insight into how blockchain can be commercially implemented and the challenges that still need to be overcome.
Key speakers that can be highlighted include:
Joseph Lubin, Co-Founder, Ethereum and Consensys
Ahmed Fahour, Chief Executive Officer, Australia Post
Leanne Kemp, Chief Executive Officer, Everledger
Annabel Spring, Group Executive, Wealth Management, Commonwealth Bank
Peter Jessup, Senior Vice President of Global Technology, Nasdaq
Stuart Irving, Chief Executive Officer, Computershare
Liam Maxwell, National Technology Adviser, UK Government
Mark Staples, Group Leader and Principal Researcher, Data61
Nigel Dobson, General Manager, Transformation Projects, ANZ
Dilip Rao, Asia Pacific Chief Executive, Ripple
Bronwyn Evans, Chief Executive Officer, Standards Australia
For complete details on the speakers and event agenda, visit the website here (link to http://bit.ly/2cSo0p6)
Designed for senior executives from across industries, the APAC Blockchain Conference will feature a full day plenary followed by two full day streamed sessions: Banking and Finance or Government, Smart Contracts and Industry.
Both streams are case-study led, and will examine what some of the most innovative organisations are doing to develop, implement and adopt blockchain technologies in their organisations as well as looking at some of the world's leading Blockchain start-ups.
The event aims to look beyond the hype and find a way to make blockchain technology a commercial reality. To do this, captains of industry leading the change, world leading project heads, innovative start-ups and regulators will gather in the one place to share their knowledge and experiences.
Join us in March! Registrations now open online. (link to: http://bit.ly/2cSo0p6)