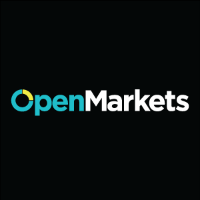 OpenMarkets is Australia's next evolution stockbroker.
OpenMarkets is an independent technology stockbroker that specialises in execution-only brokerage services for trading on the Australian markets. They power traders, advisers and intermediaries with high quality trading solutions that's at the forefront of innovation.
Unlike a conventional broker, their technology is open to third party integration, with the aim of bringing a more connected world for their traders.
OpenMarkets growing network of partners include banks, advisers, fund managers and software developers, who are working with them to help make trading the financial markets more powerful than ever.
Their collaborative approach, open technology and pioneering attitude allows them to look beyond tradition and think about what's next – making OpenMarkets the broker of the future and ideal partner for the wider financial services industry.