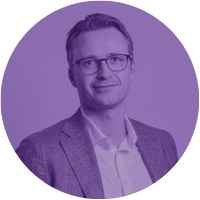 This guy is quickly but quietly building Sweden's next fintech giant
Johan Tjärnberg is quietly building a fintech business that may prove as successful as Klarna. During 2016, his payments company, Bambora, grew 20% to revenues of SEK 2 billion.

"Sales will increase even more this year, by as much as 30%, and we've been profitable from the start," Johan Tjärnberg told Breakit.

Bambora is a platform that aggregates hundreds of payments services, and it's currently available in 65 markets. Bambora's clients can even choose to use Klarna as their payment service.

During 2017 the business will expand to North America, where the number of merchants using the service will increase by 10,000 over the year. That will boost the sales of the group by 30% to EUR 260 million, Johan Tjärnberg said to Bloomberg News.

Currently, the company has about 100,000 clients, of which 30,000 are located in the US and Canada.

Nordic Capital, the main owner of Bambora, is not pushing for a quick exit, according to Tjärnberg, but a stock market flotation could be an option.
To read more, please click on the link below…
Source: This guy is quickly but quietly building Sweden's next fintech giant – already operating in 65 markets – Business Insider Nordic