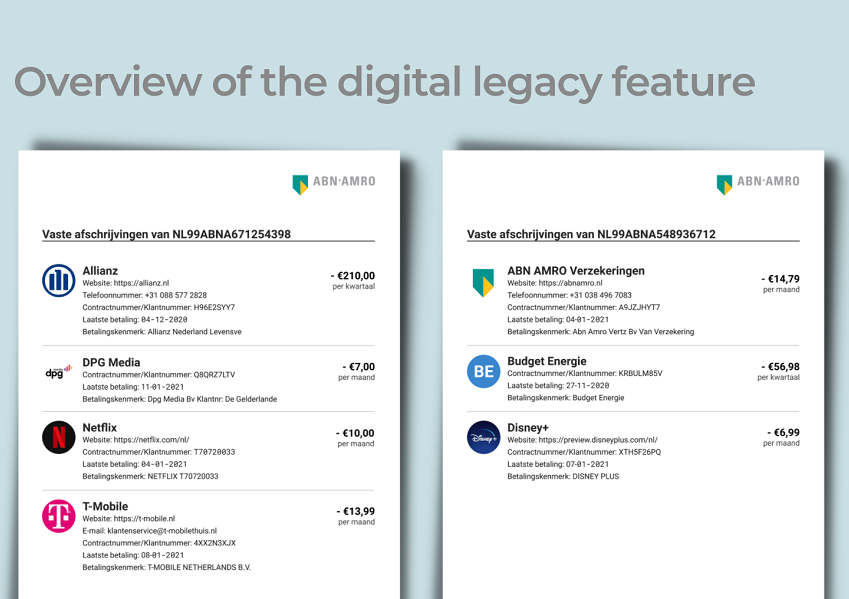 Subaio steps into death tech space with ABN AMRO
Subaio's newest solution is giving deceased bank customers a better last farewell. The new solution is launched in continuation of the successful partnership between the fintech and ABN AMRO.
What happens with your bank account when you die? The answer is that your surviving relatives spend a lot of time in a difficult situation just to understand what types of recurring payments you have, which ones should be canceled, and which ones should be moved to, for instance, your wife or husband. This is the issue that the Danish fintech Subaio and the major Dutch bank ABN AMRO are addressing in their newest solution.
"We are pleased to launch a new feature together with Subaio that provides a better service to our customers at the time of need," says Gijs van Wijk, Lead Product Owner Innovation at ABN AMRO.
The bank saw a need
The solution was brought to life as ABN AMRO saw a need to provide financial guidance when their customers pass away by offering surviving family members a simple overview of the deceased person's recurring payments, including subscriptions, loans, insurances, and more.
This new launch makes Subaio the first company to go live in the Netherlands with this type of service designed for banks.
"We are thrilled to expand the scope of our partnership with ABN AMRO. They are a truly innovative partner going above and beyond to fulfill their customers' needs," says Thomas Laursen, CEO at Subaio.
Big bank benefits
ABN AMRO is among the three biggest banks in the Netherlands, serving around 6 million clients.
The bank's focus on customer-focused innovation is evident in its digital customer experience living up to modern standards.
In the past, ABN AMRO's customer support needed to go through financial transactions manually to find each recurring payment which could then be canceled or moved by the deceased customers' surviving relatives. The task was time-consuming as the typical Dutch person has more than 11 recurring payments on average. Now, this process is entirely digital, which relieves customers' administrative burden of managing the recurring payments of their recently deceased relative. This creates a positive image of the bank using Subaio's next-of-kin solution.
"Since the start of our partnership, we significantly benefited from Subaio's recurring payment expertise. We are looking forward to launching new features with Subaio in the future," says Gijs van Wijk.