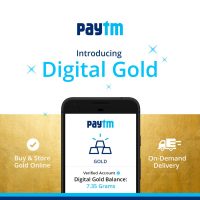 Paytm Digital Gold platform allows users to buy, share, sell gold digitally
With Paytm launching its Payment Bank services on May 23, users were left wondering what exactly has their digital wallet service turned into. Founder, Vijay Shekhar Sharma says that currently, it is not just a wallet or a Payments Bank, but also a gold retailer.

The company behind Paytm, One97 Communications on April 17 launched its first wealth management product aimed at middle/ lower middle-class Indians. The product named 'Digital Gold' allows users to buy, store and sell gold on its platform.

"The fundamental idea behind digital gold was to bring wealth management to the common man such as a chaiwallah or auto rickshaw driver who loves gold," Vijay Sharma said in an interview with BloombergQuint.

Introduced as a pilot programme in October 2016, Paytm partnered with MMTC-PAMP India Pvt Ltd; and the gold sold on its platform is obtained from and stored in vaults maintained by MMTC-PAMP.

So what exactly is Paytm Digital Gold?

Paytm Gold allows its users to buy, store and sell gold on its platform. Transactions are carried out in either grams or in rupees. Gold can be bought/sold any day, time without any public/bank holiday restrictions. It is to be noted that Paytm Gold is not a collective/systematic investment scheme. Users will not earn any interest on investment, and there will not be any monthly investment.

Is buying gold on Paytm legal?

Paytm only acts as a platform for seller MMTC-PAMP India, which is reportedly India's largest gold refinery.

Redeem/Seeling your digital gold?

Users can redeem the collected digital gold in the form of gold coins/ minted products. Accumulated gold can also be sold to MMTC-PAMP. MMTC-PAMP is India"s London Bullion Market Association (LBMA) Good Delivery accredited Gold & Silver Refinery.

How pure is the Gold?

According to Paytm, '9999 gold' which is traded, is the purest form of Gold used for trading purposes across the world.
To read more, please click on the link below…
Source: Paytm 'Digital Gold' platform allows users to buy, share, sell gold digitally – Times Now