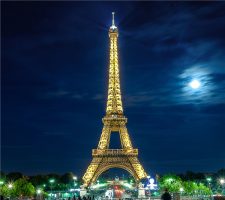 Parisian bankers target fintech catch up
After years of lagging behind London on spawning financial technology startups, Paris this week hosted a show of force aimed at proving the French capital can catch up as more than 1,500 bankers, investors and entrepreneurs gathered.

The Paris Fintech Forum, which took place recently in the old bourse's temple-like building, tripled its turnout from last year. With the UK's vote to leave the EU seen as an opportunity for Paris to raise its game, executives from Societe Generale, insurer Axa and Spain's Banco Bilbao Vizcaya Argentaria among others showed up to talk about potential in France.

Just as London is Europe's banking and finance centre, it has been centre stage for fintech financing in the region. Paris startups in this segment, as in other parts of tech, have run into a lack of financing in recent years, as well as being confronted with a generally more constraining business environment.

"Who would have imagined just a few years ago that a central banker would be speaking at a forum on innovation?" Bank of France governor Francois Villeroy de Galhau said. "For banks and insurers, the digital revolution is upsetting the traditional model for client relations" and "there are difficult choices ahead."

For French banks, relatively high profitability has helped avoid the deeper cost cuts of the kind of UniCredit and Deutsche Bank. Still, revenues remain under pressure partly because new technologies are creating cheaper alternatives for clients. With a French law will going live next month making it easier for customers to switch banks, BNP Paribas, Credit Agricole and Societe Generale have made stepping up digital spending a priority.

"There is a desire from big companies to step up investments, and this might accelerate an already positive trend" for fintechs, said Julien Maldonato, director for the financial industry at Deloitte in Paris. Fintech startups raised €155mn in France last year, up from €135mn a year earlier, he said.

Groupe BPCE, which commands the second-biggest market share of French loans, plans to shift 1,000 employees onto its digital teams and open venues in France and Berlin, Chairman Francois Perol said. BPCE last year bought Germany's Fidor, an on-line bank and a platform for financial advice. Societe Generale is also accelerating investments in technological change and its on-line-banking unit is sharing an account-aggregating tool with the company's consumer-banking networks.

France's top financial firms need to embrace innovation as clients increasingly turn to their smart phones for banking. In 2016, only 20% of visited to their bank more than once a month, down from 62% in 2007, according to a BVA survey for the French Banking Federation.

"You need to create a sense of urgency," Axa chief executive officer Thomas Buberl said. "Everybody at Axa has understood that digital is there, that digital changes our business and also that digital can create an opportunity."
While start-ups such as KissKissBankBank, Lendix and Compte Nickel were among the better-known of French fintechs at the conference pitching for business, Paris has a long way to go to catch up in terms of venture financing.
To read more about Paris FinTech, please click on the link below…
Source: Parisian bankers target fintech catch up, eye Brexit opening