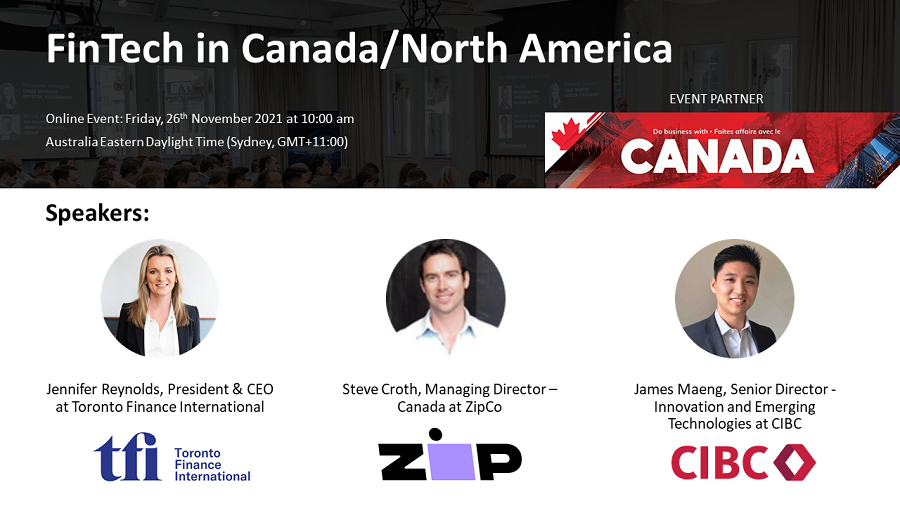 Online event uncovers Canada as world-class destination for FinTech companies
This is a great opportunity to understand the Canadian landscape and the numerous opportunities it offers for Fintech companies to expand and grow. It will also give you practical advice on how to partner with Canadian companies and Financial institutions, how to navigate the ecosystem, and how to get access to North American markets (USA) from a world-class FinTech jurisdiction.
Understand Canada's key advantages: excellent economic fundamentals, competitive business environment, talented dynamic workforce, leading-edge innovation, easy access to markets, and an excellent place to live.
Hear from the following experts:
Jennifer Reynolds – President & CEO at Toronto Finance International
Steve Croth – Managing Director – Canada at ZipCo
James Maeng – Senior Director – Innovation and Emerging Technologies at CIBC
MC/Chair: Glen Frost – Founder of the FinTech Summit and the FinTech Awards
REGISTER HERE: https://canada.webex.com/canada/onstage/g.php?MTID=e9a99719f0faa1dfbb9180c9588ea177f
Dates and times: 
AUSTRALIA:
Friday, November 26, 2021 10:00 am
Australia Eastern Daylight Time (Sydney, GMT+11:00)
NEW ZEALAND:
Friday, November 26, 2021 12:00 pm, New Zealand Daylight Time (Wellington, GMT+13:00)
CANADA / USA:
Thursday, November 25, 2021 6:00 pm, Eastern Standard Time (Toronto, GMT-05:00)
Want some more information on Canada? Here you go:
https://www.accenture.com/_acnmedia/PDF-149/Accenture-Fintech-report-2020.pdf
https://www.investcanada.ca/industries/technology