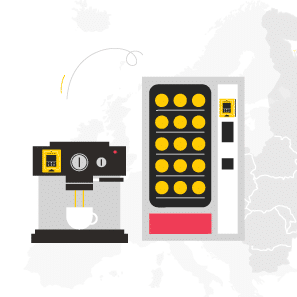 Nayax provides cashless payment solution for international oil and gas company, MOL Group
Nayax, the leading cashless solution provider, has been announced as the preferred partner of MOL Group to improve consumer experience and enable cashless payments for new customers. An integrated oil and gas company headquartered in Budapest, Hungary, MOL Group operates in consumer services in nine countries across Central and Eastern Europe, with a total of 1,941 service stations. Nayax was chosen due to its worldwide presence, onboarding process and technology. Following a successful proof of concept in Croatia and Hungary, MOL Group will be integrating initial devices at a group-level.
In line with MOL Group's 2030+ strategy, the company aims to become the first choice of customers as a best-in-class, digitally-driven consumer goods retailer and an integrated, complex mobility service provider by 2030. With Nayax, MOL Group is looking to provide a new consumer journey for users at their coffee machines, rest rooms, and car washes while improving the experience by offering unattended payments.
"Nayax's VPOS Touch device provides a great customer experience, enjoyed by our service station staff, as well as customers, and we're excited to have the opportunity to further develop it, to tailor it to our needs," said István Mag, Head of Digital Factory at MOL Group. "Nayax's cashless solution provides us more transparency in sales data on our unattended devices and clarity on their status, opening new horizons in maintenance and error reporting of these devices in the long run."
"As a global entity, with sales and support offices around the world, Nayax provides MOL Group with a unique opportunity, ensuring that their cross-border needs will be met. Their commitment to their customers in developing loyalty and engagement programs synchs well with our own vision of improving the consumer experience and our customers' businesses. Working closely with MOL Group, our technical teams have initiated exciting product opportunities for Nayax that we are looking forward to implementing," said Yair Nechmad, CEO, Nayax.