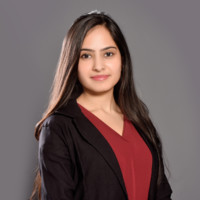 How this young entrepreneur turned her hobby into a fintech startup powered by blockchain
Making money is hard but managing it is not as tough, says 23-year-old Smriti Tomar, who started InvestoAsia, a fintech startup based on blockchain technology this year.

Gurugram- and Hong Kong-based InvestoAsia aims to help retail investors to easily invest in international markets, especially in China and South Korea, which Smriti feels is currently a major difficulty.

The Founder and CEO dubs the platform as a 'financial lifestyle product' that aims to redefine personal finance with the power of artificial intelligence (AI), machine learning (ML), and distributed ledger technology (blockchain), to eradicate the inequality amongst the unbanked, unaware, and financially illiterate. The startup, the Founder notes, provides opportunities that were only available to HNIs before and not accessible to a retail user.

"Our innovation is a one-stop platform that offers saving, investing, lending, borrowing, and spending under one umbrella. It has features such as international market exposure, automatic rebalancing, recurring deposits, and tax efficiency with the ability to self-direct your own, personalised investment strategy through our DIY financial tools," Smriti adds.

She says while there are startups in healthtech sector that help doctors with the historical medical data of a patient to help them treat better, there is nothing for financial health.

"A common man has to access financial services from various market players and hence the data is not centralised. We provide all the tools on the same platform so that the users' habits of investing, spending, and borrowing are in one place. Our AI can help them lead a better financial lifestyle. This is why we call it a financial lifestyle product. Blockchain, on the other hand, leads to operational efficiency. Hence, it costs lower for users," she explains. Smriti also says that the company has filed a patent for its technology.
To read more, please click on the link below…
Source: How this young entrepreneur turned her hobby into a fintech startup powered by blockchain