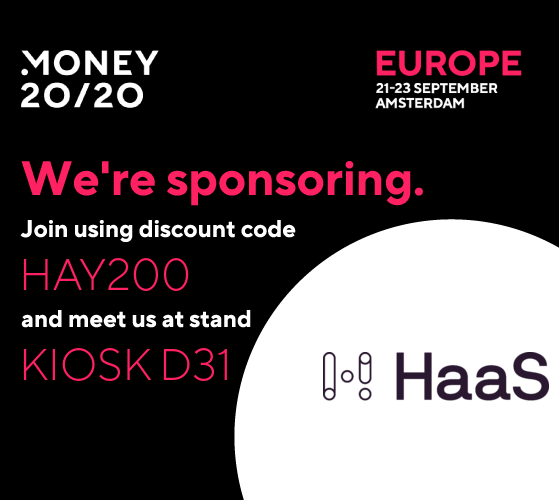 HaaS to be an official sponsor of Money 20/20 Europe in Amsterdam 21-23 September 2021
HaaS (Hay-as-a-Service) is an official sponsor of Money 20/20 Europe which kicks off in Amsterdam this week with the theme: "Fintech, let's get back to business!"
HaaS is exhibiting at Stand D31 represented by two senior executives from its London office, Hemant Grover, Head of Business Development EMEA, and Jamie Shepherd, Head of Product Strategy.
The London team has only recently moved into larger premises as HaaS expands its engineering capacity by 200% to service increasing client demand in the UK and Europe.
In export markets, HaaS is collaborating with the Australian Trade and Investment Commission (Austrade), who will also have a team at Money 20/20 led by Christopher Cobb, Senior Trade, Investment and Business Development Manager at Austrade, also based in London.
Posting on social media on Friday, Cobb placed HaaS among "the most innovative businesses in the Australian fintech space" and he also described the Australian fintech market as "thriving."
Now headquartered in Sydney, Australia, the Hay Group was born in London in 2018 as a truly international business. Founder & CEO Andrew Laycock built and first launched Hay in Australia in 2019. Now the company is reverse exporting back to the UK and Europe and has plans for SE Asia.
Speaking about Fintech 2.0 (a white paper thematic for Money 20/20), Laycock said, "At Hay, we believe the future of finance is not bounded by the concept of first-generation digital banking. We see an opportunity to provide seamless integration of embedded financial services into any financial or non-financial company, improving customer experiences and adding yet untapped business value."
The HaaS product and technology teams bring together cutting edge industry experience gained in high frequency trading, funds management and payments. HaaS allows its clients to access a full suite of pure microservices in a cloud-native environment via a single API, to benefit from the ultimate flexibility, speed, adaptability and cost efficiencies.
The Hay Group's industry leading partners include: AWS, VISA, Apple, Google, Appian, GPS, and Featurespace. Together, they enable the HaaS platform to provide:
– Payment and settlement: Wallets and tokenisation; Card payments; Bank transfers
– Financial crime: KYC & KYB; Fraud management; Disputes; Reporting
– Accelerator tools: Multi-rail sandbox; Skeleton payments app; Advisory