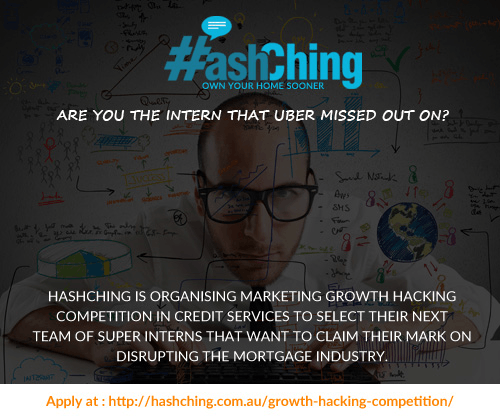 Growth Hacking Competition
Are you the Intern that Uber missed out on?

Australian FinTech company HashChing is organising a marketing growth hacking competition in Credit Services to select their next team of super interns that want to claim their mark on disrupting the Mortgage Industry.
When:
Fri, 16th October 2015 @ 10 am till Mon, 19th October 2015 (10 am)
Where:
At the Start-up office at 10/50 Victoria Rd in Drummoyne, NSW or wherever you want (but then you'll miss out on the Fun, Buzz and Pizza's)
This is a TEAM event, so your entry should consist of 3-4 team members covering the following skills sets:
Marketing
UI Design
Web Development
Prizes:
The winning team gets a paid 10 weeks internship (and a potential full time position) at a highly innovative startup.
Winning team wins a total cash prize of $200.
Second prize: Runner up team gets a total cash prize of $150.
Participating team will get a total cash prize of $50.
For more details go to: www.hashching.com.au/growth-hacking-competition
Good luck!