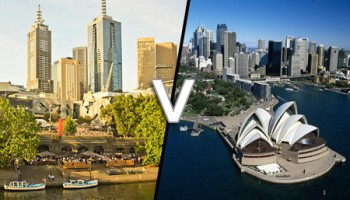 Forget Melbourne v Sydney, Australian fintech must take a global view
In 1901 there was such a massive spat between Sydneysiders and Melburnians over which city should be capital of the newly federated Australia that a whole new city (and territory) was formed.

Fast forward more than 100 years and nothing has really changed. Squabbling continues around everything from which city has the better cuisine to which has the better events. All good, natural competitiveness, but then last year it encroached on one of our most promising industries – the emerging fintech startup ecosystem.

This Sydney-Melbourne fintech civil war risked diverting founders and investors away from the global opportunity. Domestic squabbling was followed shortly by another irrational fear of overseas markets swallowing up our best and brightest startups.

Our young ecosystem faced its first real threat and, thankfully, passed with flying colours.

Fintech startups, funds and incubators raised millions of dollars, forged strategic partnerships with banks and grew their businesses to the point where nine Australian startups ranked amongst the top 100 in the world.

At the same time, FinTech Australia poured water on the inter-city squabbling with dozens of startups signing on to influence federal policy that prioritises fintech.

Healthy competition

That's not to say rivalry isn't enormously valuable. Competition drives everyone to work harder and reach further. But when it becomes like arguing over who has the faster car, we get overtaken by those who simply go off and build a better engine and are already hitting 300mph on the autobahn.

It is important to recognise proximity plays a crucial role in building ecosystems. Silicon Valley, Israel and London became startup hubs largely off the back of having engineers, capital, sales, finance, mentorship, customers and supporters all in one place.

So of course Melbourne and Sydney (and every other major centre) should do all they can to attract and nurture each of the relevant components. But this should not overshadow the bigger opportunity to building international paths and ties.

As startups are now in the spotlight and fintech fever in particular sweeps the nation, we are in danger of thinking too small.

As a fintech co-founder and CEO, it is incredibly exciting to see the growth of disruptive startups, incubators, specialist hubs and accelerators opening up, and a new Prime Minister who appreciates the economic opportunity of financial innovation.Australia is a good place to build innovative fintech businesses. With 23 million mostly middle-class consumers (and borrowers and investors), this is a hugely attractive market.

Think global

But when you look at where we sit on a global scale, the domestic opportunity is dwarfed by the opportunity that lies beyond our shores.

The Australian fintech market is significant – it is predicted to take a A$27 billion chunk out of the banking industry's revenue. But looking at some of the more high-profile sectors such as P2P lending, the total value of loans made through P2P platforms in Australia is around US$800 million. This is less than just one of the US players, LendingClub, which last quarter had a total loan value of US$2.2 billion.

Similarly, with robo-investing the market becomes exponentially bigger if you take a global view. In Australia the total invested funds under management (excluding superannuation) is around A$1 trillion, but in the US it balloons to more than US$25 trillion. This same global opportunity awaits Australian startups across all fintech sectors.

For PromisePay, Australia is one of the leading environments for online and mobile payments platforms, so it is a massive focus for us. But at the same time, we have established offices in the US (plus New Zealand and the Philippines, with Canada to come soon) where the addressable market is exponentially larger and continues to surge.
Source: Forget Melbourne v Sydney, Australian fintech must take a global view | afr.com