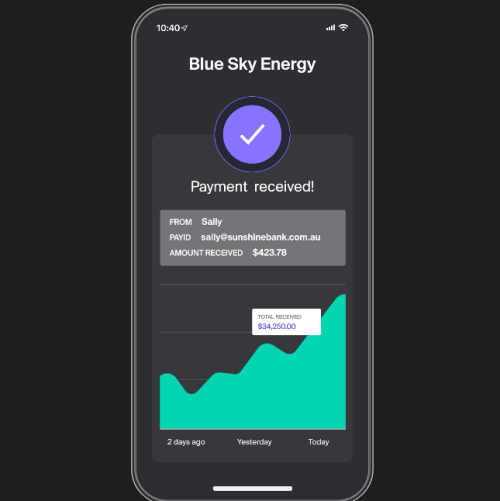 finPOWER partners with Zepto to launch PayID support for lenders
finPOWER, a leading financial technology company that specialises in loan management systems, has today announced the launch of PayID for its customers using its Connect software and platform, powered by account-to-account (A2A) payments leader Zepto.
The PayID integration aligns with finPOWER's commitment to providing cutting-edge, real-time innovations to its diverse range of over 400 customers, which includes Consumer Lenders, Private Lenders, Banks, Mutuals, BNPL providers, Retailers, Short term Lenders, Car and asset loan providers.
Powered by Zepto's direct connection to Australia's real-time payments infrastructure—the New Payments Platform—PayID represents a crucial step towards the future implementation of PayTo.
Lee Slattery, General Manager, finPOWER said choosing Zepto as its payments provider for the new integration was a natural fit following a successful partnership spanning four years. "Partnering with Zepto to launch PayID makes sense for us. Their real-time payments platform is a market leader, and they are experts in their field with an intimate understanding of A2A payments. They understand the context of our software, our industry, and most importantly, the needs of our customers."
finPOWER Connect leverages a number of Zepto's payments capabilities including Direct Debit, real-time payouts via the New Payment Platform (NPP), PayID and soon PayTo. These payment methods offer loan companies a range of benefits, from faster loan repayments and streamlined loan disbursements, to lower administrative costs, and enhanced customer experience through real-time A2A payments and automation.
"We're seeing growing knowledge of, and demand for, new real-time payment options amongst our customers, and there's a real appetite for PayID and PayTo. Our customers know this is where the future of payments lies, and with Zepto, we know the experience we're providing will be seamless—and that's what our customers want," Lee added.
Tanya Martin, Head of Partnerships, Zepto, expressed her enthusiasm for the partnership and launch of PayID. "Our collaboration with finPOWER is a testament to our shared vision of driving innovation in the financial technology sector.  finPOWER 's dedication to enhancing the payments experience for its customers perfectly aligns with Zepto's expertise in A2A payments. Together, we are delivering payment methods for lenders that are fit for the fast-paced, always-on modern economy."
The launch of PayID comes at a time when finPOWER's customer base is growing, having recently seen significant growth in finPOWER Connect in the car and asset finance industry and Private Lending industry with several new players entering the market.
"The increased cost of funds is driving competition and the need for more productivity; we are seeing more new Lenders choosing finPOWER Connect for their Loan management to launch their new products and exiting Lender switching to finPOWER Connect to decrease application time and improve productivity. Customers are looking to their platforms to speed up customer experience and increase their return on investment. The finPOWER and Zepto relationship is a long-term partnership that will continue to grow and strengthen, with our customers seeing the real time benefits," Lee concluded.