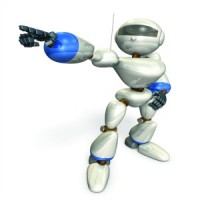 Can robots terminate the human adviser?
Financial planners and advisers would scoff at the idea of an automated system, or a robot, providing financial advice to clients based on answers to a few questions and the click of a button.

Moreover, advisers are apprehensive of consumers embracing the do-it-yourself approach to investing, arguing that it is impossible for consumers to navigate complex investment choices and the myriad of financial products without guidance from trained advisers.

Financial planning dealer group, Wealth Today's managing director, Greg Pennells, recently labelled robo-advice a 'cop-out', and called on the corporate regulator to ban the technology.

He said technology is useful for transactional services like buying and selling shares, stockbroking, mortgages, or even booking for travel.

"But financial planning is holistic. You almost need to have a bit of psychological skill to actually be able to sit with the client to discuss all their dreams and aspirations and then pick the right products accordingly," Pennells said.

"I know what's involved in being a financial adviser and how much training is required and how many products are out there. No one would even know where to start, and most people don't even know that they need financial planning advice.

"He also worried that no one would be held accountable if a client picked a bad product as they would have chosen it themselves.

Yet, institutions and planning practices globally are beginning to offer robo-advice or digital advice as they face cost pressures and the decline in the take-up of face-to-face advice by clients.

The Royal Bank of Scotland (RBS) axed 220 face-to-face financial advisers in March, just as the UK regulator, the Financial Conduct Authority (FCA), signalled its approval of automated advice models.

In response to the declining number of clients opting for face-to-face advice, the RBS said it had introduced an "online investing platform", which would offer customers advice based on their responses to a series of questions.

Closer to home, National Australia Bank (NAB) launched its personalised digital advice offering, NAB Prosper, in September 2015, while Macquarie launched its custom online investment advice service, OwnersAdvisory, this year.

The Australian Securities and Investments Commission (ASIC) also signalled support for the automated provision of advice late last year, where chairman, Greg Medcraft, said in a speech that robo-advice could potentially decrease conflicts of interest, improve compliance, and be a low-cost financial advice option for consumers.

Robo-advice has gained increasing popularity in the US and the UK, with Betterment now the biggest independent robo-adviser in the US with US$3 billion in advice under management. In Australia, robo-advisers include Stockspot, and Ignition Wealth, which partnered with accounting and financial services practice, Stantins Consultancy earlier this month.
Source: Can robots terminate the human adviser? | Money Management