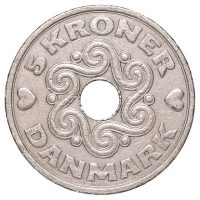 Blockchain lures central banks as Danes consider minting e-krone
There's a growing number of central banks questioning the point of printing paper money.

In Denmark, the wardens of cash are now looking into producing a virtual currency instead, which they predict will make crime harder and oversight easier.

The Danes aren't alone. Britain and Sweden are blazing a trail in Europe. Singapore and Canada have already tested blockchain-based currency systems for internet payments.

Governor Lars Rohde, whose job as of next year will no longer include overseeing a cash printing press in Copenhagen, says pros include lower transaction costs. But the risks are considerable. It's uncharted territory, and the potential unintended consequences have the scope to upend the economy.

The Danish central bank will outsource its cash production from next year. Finland will mint the coins but a decision has yet to be made on who will print Denmark's bank notes.

Though cash won't completely disappear, Denmark is exploring cheaper and more efficient alternatives. The central bank estimates that the total cost to society of using paper money is at least double that of relying on credit and debit cards.

Safety nets

At this point, the challenges of developing an electronic currency aren't technological.

"We're not preoccupied with the technology, because we know that issue well," Rohde said in a December 5 interview in the Danish capital.

Cash is used in about only 20 per cent of Danish transactions. What's more, it represents less than one-third of the money supply and therefore can't be considered a safety net should the electronic payments system stop functioning.

"We're way past that point," Rohde said. "Cash and notes are not an alternative to electronic payments. We went beyond that many years ago."

The blockchain

The central bank says "blockchain technology, or a variety of that, for example" would be an obvious model to use for virtual currency.

Rohde says the bank is exploring whether the electronic currency it produces "should be anonymous or not". E-kroner would have a serial number, which would make currency units traceable at all times.
To read more, please click on the link below…
Source: Blockchain lures central banks as Danes consider minting e-krone | afr.com