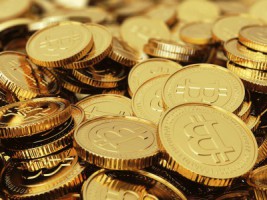 Bitcoin drifts lower after technical milestone
The virtual currency bitcoin made it through a closely watched technical milestone with a 2 per cent decline.

The price of the alternative currency, measured in dollars, dipped on Saturday in light trading by about 4 per cent, but then recovered some ground to trade only about 2 per cent lower than it did early in the day, according to bitcoin tracker Coindesk.

In recent months, a run-up in the price of bitcoin was attributed in part to the "halving" that arrived Saturday. That effectively cuts by 50 per cent the rate of production of new bitcoins. In theory, that makes existing bitcoins more valuable.

The pre-programmed "halving" that took place shortly after noon Eastern time Saturday cuts the monetary reward that network operators receive for contributing computing power to the bitcoin network.

A 2 per cent decline in bitcoin's price to about $645.16 on Sunday afternoon Eastern time from about $660 early Saturday isn't much of a swing for bitcoin, which sometimes bounces around 5 per cent or 10 per cent in a single day.

Since late last year, the price of bitcoin has more than doubled from levels below $300. But it is still well off its high above $1,000 a few years ago.

Bitcoin has captured the interest of some investors who historically gravitated to gold as a hedge against unstable markets. But the currency's popularity has been hindered by technical problems and cybersecurity issues tied to platforms that trade the currency.

Under bitcoin's design, the halving happens roughly every four years. It helps prevent too many coins from being created too quickly.
To read more, click on the link below…
Source: Bitcoin drifts lower after technical milestone – The Australian