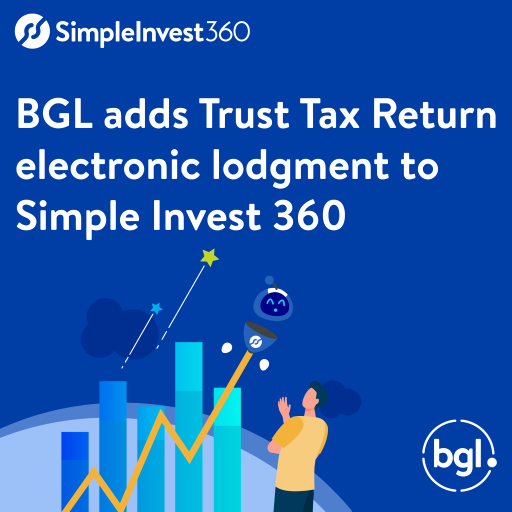 BGL adds Trust Tax Return electronic lodgment to Simple Invest 360
BGL Corporate Solutions, Australia's leading provider of SMSF, investment portfolio and company compliance management software, announce the release of the Trust Tax Return electronic lodgment in its investment portfolio software solution, Simple Invest 360.
"It's nice when you are first to market with highly requested feature's" said Ron Lesh, BGL's Managing Director. "While others talk about vapourware, the BGL product teams have delivered the electronic lodgment of the Trust Return, and I am incredibly proud of them."
"The Trust Tax Return functionality was released in two parts with the paper trust tax return and associated schedules released in February 2022" added Lesh. "This latest release, after receiving approval from the ATO, provides our clients with the ability to electronically lodge the 2021 Trust Tax Return from within Simple Invest 360 today."
Launched in June 2021, Simple Invest 360 is an end-to-end investment portfolio management solution for accountants and financial professionals. It automates the tedious tasks of CGT record-keeping and financial reporting no matter what the tax structure – trusts, companies or individuals. Simple Invest 360 integrates with CAS 360 and Simple Fund 360 as well as providing integrated accounting workpapers, digital signing, 350+ data feeds, registry integration and BGL SmartDocs – BGL's industry leading paper to data solution.
"Many believe that Simple Invest 360 only keeps track of the investment" noted Lesh. "They don't realise it is a complete investment portfolio management solution that keeps track of investments, distributes profits, provides a full set of financials and makes tax return preparation and lodgment easy. It's the whole package and eliminates the need for cross platform management and reduces the risk of data discrepancies."
For a live demonstration of Simple Invest 360, join our discovery webinar with Simple Invest 360 Product Manager, Andrew Paszko. Click here to register.
For more information, please visit www.bglcorp.com/simple-invest-360.