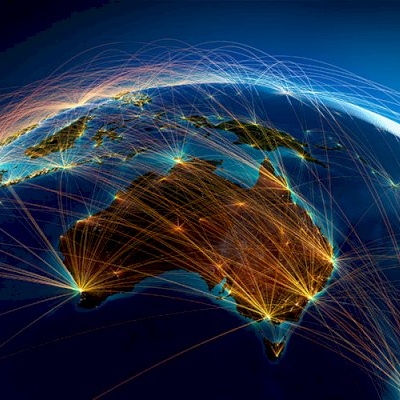 Australia needs to regulate cryptocurrency market to ensure it remains globally competitive
Australia's largest digital assets exchange, BTC Markets, is calling for regulatory oversight of the domestic cryptocurrency market amid a renewed surge in demand for Bitcoin and other digital assets.
According to BTC Markets, there are gaps in Australian regulation relating to digital financial products and the exchanges who support them.
The technology and ideology that underlines Bitcoin and other cryptocurrencies has been difficult for traditional markets to accept. But large financial institutions are now developing a mature understanding of its fundamentals.
With Bitcoin prices reaching new record highs, recent media reports have called for the regulation of cryptocurrency, a move that BTC Markets supports passionately.
BTC Markets' CEO, Caroline Bowler, said digital finance is growing rapidly and that our country needs to keep apace of the change, with legislation tailored to technological advances.
"Australia needs to prepare for the future of finance. We believe prioritising digital financial legislation will have a significant longer-term impact across our entire economy.
"With the COVID-19 pandemic accelerating the move to digital, technology needs to be viewed as a driver of future jobs and economic growth to ensure Australia remains globally competitive.
"As a nation, we are setting international standards for blockchain use. But we need to use this clear advantage to get on the front foot to prepare our economy for what is to come," she added.
Other jurisdictions pulling ahead
According to Ms Bowler, other jurisdictions are successfully pulling ahead in regulating their cryptocurrency markets, which is driving local company founders to list their companies overseas.
Hong Kong has initiated a licensing regime for digital currency exchanges, which includes the ability to list Security Token Offerings (STOs)[1]. Since listing requirements may be less onerous than on traditional exchanges, it serves as a better capital raising model for young companies.
Singapore also requires cryptocurrency businesses to be licensed. This has allowed DBS Bank, part owned by the Singapore sovereign fund Temasek, to launch a full-service digital exchange that includes digital trading and custody, a frontrunner of the new industry standard.
The United States has moved forward with the introduction of the Crypto Currency Act 2020 in Congress; the licensing of crypto banks in Wyoming; and legislating for traditional banks to custody digital assets.
The European Commission (EC) is looking to adapt existing frameworks to regulate innovation 'in' rather than 'out' and proposed a pilot regime for market infrastructures based on distributed ledger technology (of which blockchain is one type).
"We have firsthand experience of private equity, venture capital firms and investment banks looking to float innovative Australian companies via STOs but are hamstrung by a lack of local market infrastructure, inhibited by a regulatory framework shaped for traditional markets.
"This approach locks out much needed capital raising for Australian innovators and entrepreneurs and closes the door for local investors to access good quality investment opportunities. With recent advances overseas, such companies are looking for opportunities elsewhere in Asia-Pacific.
"As an Australian exchange, the challenge lies in navigating the unclear and at times, outdated regulatory environment," Ms Bowler said.
The opportunity for Australia
BTC Markets believes that Australia can follow its overseas counterparts, distilling their objectives and examples to the domestic context.
Digital trade in Australia is estimated to be worth $192bn in the domestic economy by 2030. Digital goods and services are our fourth largest export sector, according to the Department of Foreign Affairs and Trade.
BTC Markets is a small but fast-growing Australian business reflective of the sustained growth in digital assets and cryptocurrency markets.
"As a digital asset exchange, we would strongly welcome a bespoke regulatory regime – similar to that developed by the European Commission," Ms Bowler said.
"We recognise the increasing focus from the government via forums such as the Senate Select Committee on FinTech and RegTech, the National Blockchain Roadmap and ongoing support from the ASIC Innovation Hub. Nonetheless, leadership needs to come from all stakeholders.
"We have reached the limit of where future economic demand meets existing financial regulation. As a home-grown Australian exchange, we are fully committed to supporting the growth of digital finance in Australia and would welcome any opportunity to work with regulators on this path to innovation," she concluded.
---
[1] A security token offering (STO) is a regulated initial public offering (IPO), issued using the speed and efficiency of blockchain technology.