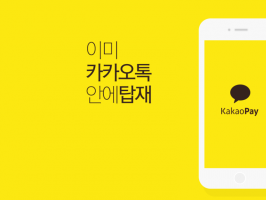 Ant Financial invests $200 million in Kakao Pay to expand into South Korea
Alibaba's financial services affiliate Ant Financial is aggressively pushing to expand its presence across the globe. Today, the company is making their way into Korea by driving a massive $200 million investment in Kakao Pay, the soon-to-launch fin-tech subsidiary of widely popular messaging service Kakao Talk.

This capital infusion, as rightly put in the blog post, is part of the company's larger strategic partnership across the globe. Ant Financial leads digital payments wallet AliPay and Alibaba's digital banking services and boasts of over 450 million users on its platform. Now, it plans to expand its digital banking services to South Korea by merging them with this upcoming fin-tech entity at Kakao. It'll also help the company extend their digital banking innovations to the country.

Talking about the investment, Douglas Feagin, President of Ant Financial International says, South Korea is an important market for Ant Financial in its global expansion, and we see many opportunities in the market for innovative services and growth in mobile payments.

Given Kakao's leading mobile platform offering and vast customer base, we believe we can bring Ant Financial's broad experience in digital payments and technology-driven financial services to offer exciting and innovative products to South Korean customers.

The board of Directors at Kakao decided the formation of a separate entity for their financial service brand under Kakao Pay, back in January. Young-Joon Ryu, who was currently leading the Korean behemoth's financial division has now been elected to lead the new fin-tech subsidiary. The company plans to not only digital wallet services but also innovative and convenient fin-tech services such as bill payment, remittance and membership management.

Kakao Pay's CEO-elect also comments on the said partnership as under, The combination of Ant Financial's global payment platform Alipay and numerous financial and commerce service networks and Kakao's platform capabilities will result in more effective and convenient financial solutions for both businesses and consumers.

With this investment, Alibaba's Ant Financial is now looking to extend the reach of its digital payment services to the 48 million users on Kakao Talk. The company will merge its 34,000 merchant base with Kakao Pay to maintain their single entity and larger merchant base. This will build upon existing financial services Kakao has been offering on its messaging platform, but Ant Financial will further help increase online and offline payment coverage for South Korean users.
To read more, please click on the link below…
Source: Ant Financial invests $200 million in Kakao Pay to expand into South Korea | The Tech Portal