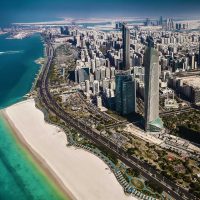 ADGM and KPMG launch Fintech Abu Dhabi Innovation Challenge
Abu Dhabi Global Market (ADGM) and KPMG have come together to launch the first ever Fintech Abu Dhabi Innovation Challenge on 22 October 2017 in Abu Dhabi to enable start-ups to access industry-leading solutions that may help entities address emerging business challenges in the financial services industry.
The Innovation Challenge, as part of the inaugural Fintech Abu Dhabi event on 22 and 23 October 2017, includes an intensive five week programme, which will allow innovative and mature start-ups to conceptualise and present market-ready solutions that can address real business challenges identified in the financial services industry in the Middle East, Africa and South Asia (MEASA) region.
"We are excited to team up with KPMG in developing and organising the Fintech Abu Dhabi Innovation Challenge. This is a great opportunity for Fintech start-ups to interact with the brightest minds in the industry to leverage the guidance and mentorship of industry experts to come up with solutions to address and solve some of the sector's challenges and pain-points. As part of ADGM's Fintech collaboration with the Monetary Authority of Singapore, the winners will be able to participate in the Singapore Hackcelerator event to demonstrate their innovative solutions. As an International Financial Centre and leading Fintech Hub, ADGM will continue to keep its finger-on-the-pulse, listening to and anticipating the needs of our market, working closely with our Fintech bridges and partners, and maintaining an open and conducive ecosystem that is relevant today, and builds the economy of tomorrow," said Wai Lum Kwok, Executive Director (Capital Markets), Financial Services Regulatory Authority of ADGM.
During the programme, 10 finalist teams will work on developing solutions to specific problem statements, divided into six focus areas: Financial and Investment Management, Financial Inclusion, RegTech, Trade Finance, InsurTech and Private Capital Markets.
The finalists will showcase their solutions at the Fintech Demo Day in Abu Dhabi to a panel of industry experts. Each finalist will benefit from a number of different sessions, including start-up initiation and mentoring sessions, opportunities to enter or expand into the MEASA financial services sector and join adoption programmes and collaborative ecosystems in the MEASA region, access to guidance and support from industry leaders, subject-matter experts and regulatory authorities, and fast-tracked consideration for admission to ADGM's Regulatory Laboratory (RegLab) programme. They will also win a $15,000 cash stipend to cover any costs associated with travel matters and/or accommodation.
To read more, please click on the link below…
Source: ADGM and KPMG launch 'Fintech Abu Dhabi Innovation Challenge' | CPI Financial | CPI Financial News | Banking and Financial News,Islamic Business and Finance, Commercial Banking