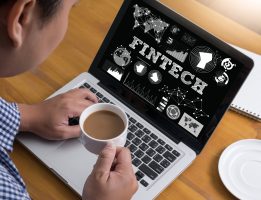 A Complete Beginners Guide To FinTech In 2017
You may have heard the relatively new term "FinTech" bandied about, but what actually is it? And why is it important for all entrepreneurs to know about and understand?

FinTech stands for Financial Technologies, and in its broadest definition, that's exactly what it is: technologies used and applied in the financial services sector, chiefly used by financial institutions themselves on the back end of their businesses.  But more and more, FinTech is coming to represent technologies that are disrupting traditional financial services, including mobile payments, money transfers, loans, fundraising, and asset management.

Don't assume that FinTech is simply a fad or buzzword: Accenture recently released a report which found that investment in fintech around the world has increased dramatically from $930 million in 2008 to more than $12 billion by early 2015.

And this is likely only to continue to increase, as FinTech touches not just the financial services sector, but every business the financial services industry deals with (which is to say, all of them). FinTech startups are small and agile, able to disrupt the lumbering behemoths that are traditional financial institutions and innovate quickly — and your business can use that to your advantage.

How FinTech is changing your business

It used to be that if you wanted to start a business, you would go to your local bank to ask for a loan or seek out a traditional investor. If a company wanted to accept credit cards, it would need an account with a big credit provider — not to mention a land line and bulky equipment.  But this is no longer the case.

FinTech like crowdfunding, mobile payments, and money transfer services is revolutionizing the way small businesses start up, accept payments, and go global, and they are making it easier than ever to start and run a business.

Can't find an investor for your big idea? Don't have the collateral or credit to get approved for a traditional loan? That's OK: Crowdfunding now means that you can raise money quickly and cheaply from people all over the world that you've never met. It has democratized the process of finding startup capital and shortened the timeline from perhaps months of meetings to as little as a few weeks.

It's also now easier than ever for small businesses to accept payments. Even farm stands in the middle of nowhere can accept credit and debit cards with tools like Square and PayPal. And while there are fees, the entrepreneur doesn't have to do a particular volume of business to qualify for an account. Anyone, anywhere can safely and easily accept credit card payments, making it easier to do business.

But what about going global?  International money transfers — which have long been a thorny issue for entrepreneurs — are getting easier as well.  For smaller transactions, services like PayPal automatically convert currencies, so it's easy for a customer in America to purchase goods from a maker in the U.K. or anywhere else in the world. Additionally, a service called TransferWise is streamlining international money transfers, disrupting that sector by offering a 90 percent discount on traditional bank transfer fees.
To read more, please click on the link below…
Source: A Complete Beginners Guide To FinTech In 2017 – Forbes