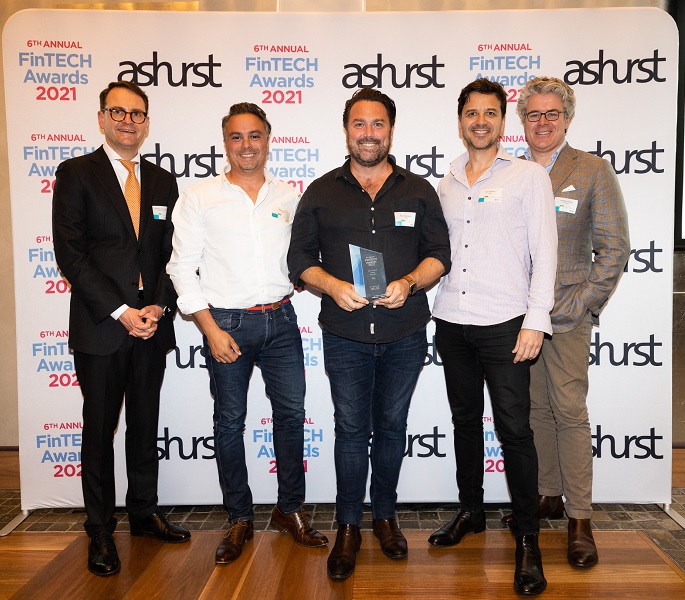 6th Annual FinTech Awards 2021 – Winners announced!
Now in it's sixth year, the FinTech Awards celebrates the entrepreneurs and Australian fintechs who are doing amazing things, and growing their businesses, both here in Australia, and overseas.
"Congratulations to the Winners of this year's 6th Annual FinTech Awards, winning an award is a huge achievement and sends a message to your customers, your team and your investors that you are doing amazing things!" said Glen Frost, Founder of the FinTech Awards.
The winners in each category are as follows:
1. BEST BUY NOW PAY LATER PLATFORM
2. BEST PFM &/or SAVINGS ACCOUNT
3. BEST FINTECH PAYMENTS PROVIDER (incl Remittance/FX)
4. BEST FINTECH WEALTH MANAGEMENT PLATFORM
5. BEST FINTECH LENDER
Brighte
6. BEST FINTECH HOME LOAN SERVICE
Sherlok
7. BEST FINTECH-BANK COLLABORATION
Slyp
8. BEST FINTECH & NON-BANK COLLABORATION
9. BEST USE OF Ai IN FINTECH
10. BEST PROPTECH PLATFORM
Brickfloor
11. BEST ALTERNATIVE INVESTMENTS PLATFORM
12. BEST SOCIAL MISSION FINTECH
Slyp
13. BEST REGTECH SERVICE / PLATFORM
14. BEST FINTECH SUPERANNUATION SERVICE/PLATFORM
15. BEST OPEN BANKING SOLUTION
16. FINTECH CTO/CIO OF THE YEAR
Trevor Wistaff, CTO – Zepto
17. YOUNG FINTECH LEADER OF THE YEAR
Ivan Tchourilov, CEO – OMG (Openmarkets Group)
18. BEST CRYPTO OR DIGITAL ASSET PLATFORM/PRODUCT
Finder
19. FEMALE FINTECH LEADER OF THE YEAR
Jill Berry, Co-Founder & CEO – Adatree
20. FINTECH LEADER OF THE YEAR
Paul Weingarth, Co-Founder & CEO – Slyp
21. BEST FINTECH GROWTH STORY
22. ASHURST FINTECH STARTUP OF THE YEAR
Slyp
Pictured above (L-R): Senator Andrew Bragg, Mike Boyd (Slyp), Paul Weingarth (Slyp), Spiro Rokos (Slyp), Andrew Craig (Ashurst)
VIP Guest: Senator Andrew Bragg
Date: Wednesday 8th December 2021