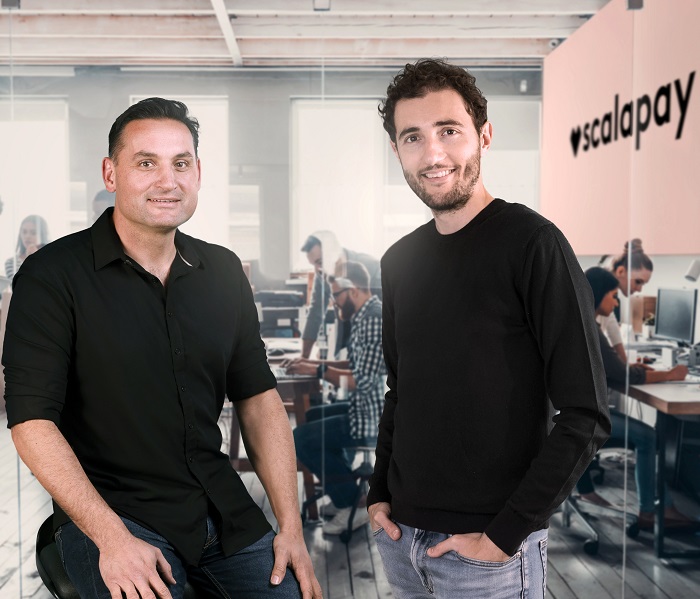 European fintech Scalapay, founded by two Aussies, raises A$210m led by Tiger Global
Scalapay, a leading payment solution in Southern Europe that enables customers to buy now and pay later without interest, announced that it has raised A$210 million in equity funding as part of their Series A investment round. The round was led by Tiger Global, with participation from Baleen Capital and Woodson Capital. The new investors join existing investors Fasanara Capital and Ithaca Investments.
The company was founded in 2019 by two Australians Simone Mancini and Johnny Mitrevski. Their vision was to bring BNPL to Southern Europe and have since launched their services in Italy, France, Germany, Spain, Portugal, Finland, Belgium, Netherlands and Austria. Since their seed funding announcement in January 2021, the team has doubled in size to over 150 people and now have offices in Milan, Paris, Munich, Dublin as well as its core technology team based in Wollongong. The company now valued over A$1B has raised A$277M in two years since launch.
Co-Founder and Chief Technology Officer, Johnny Mitrevski, based in Australia as lead of the core technology team, commented, "This announcement from Scalapay shows that Australian fintech is making a mark globally. I believe that, because of our strong financial and banking culture, Australia does fintech better than most."
Scalapay increases a customer's spending power allowing them to buy the things they love without sacrificing quality or taste over price. By spreading the payment over 3 installments without interest Scalapay makes the purchase experience more delightful as it lightens the impact on a customer's budget. For merchant partners this drives new customers, increases average basket sizes by 48%, conversion at checkout by 11%.
"Scalapay has quickly become an important player in European payments and the BNPL sector," said Alex Cook, Partner, Tiger Global. "We are impressed by their product development pipeline and strong focus on merchant success. We are excited to support Scalapay in the next phase of its growth."
This new funding will go towards Scalapay's growing team and operations. In July, Scalapay appointed Pingki Houang as General Manager, previously General Director for ShowroomPrive and Chief Executive of FashionCube (one of the largest European omnichannel retailers) as well as Arlene Reynolds, previously Head of Global Operations for Just Eat to oversee operations and country expansion. Additionally, the new funding will help scale internationally and launch new products to support merchants in luxury, fashion, and travel.
"While the likes of Klarna and Afterpay have launched deposit accounts and moved further into the banking space, Scalapay's exciting roadmap is laser focused on helping merchants with new customer experiences that increase conversion. They're leveraging BNPL in an entirely new way," says Francesco Filia, CEO of Fasanara Capital
"We are giving customers the ability to enjoy the small pleasures in life without needing to compromise; a favorite fragrance, dress or romantic weekend," said Simone Mancini, Co-Founder and CEO of Scalapay. "We are just getting started, there is so much that we can do to further support merchants in delivering amazing experiences to customers."
"The pace of product development has really been incredible. In two years, we've launched and localised Scalapay across 6 countries, integrated with 3,000 merchants, launched Scalapay in-store with over 2,000 physical retailers, launched an App as well as partnering and integrating with two European banks. The team is very excited about what's coming next and some of the new products we are developing." said Johnny Mitrevski, Co-Founder and CTO of Scalapay.
Scalapay expects to recruit another 80 developers, product managers and designers over the next 12 months. Scalapay's payment solution has become one of the most used payment methods in Southern Europe and the highest-ranking payment solution on Trustpilot as it relates to customer satisfaction.